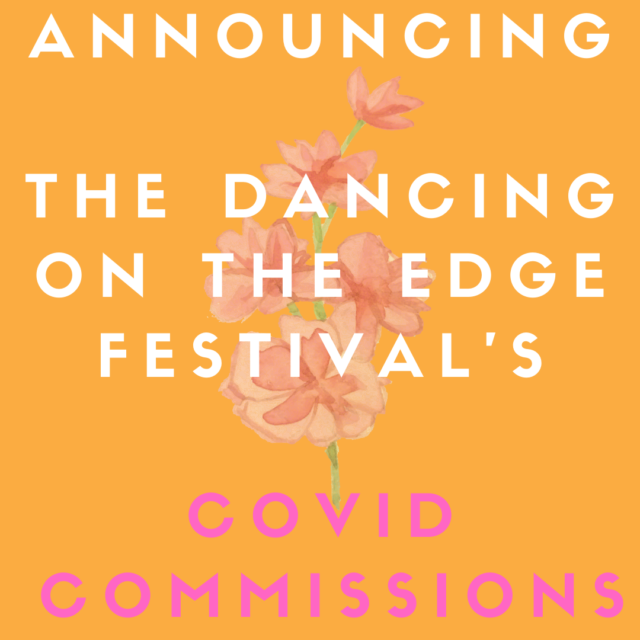 APPLICATIONS HAVE NOW CLOSED.
The Dancing on the Edge Festival is now accepting proposals for its Covid Commission project. The festival will award six commissions for amounts between $5000 and $10000 to dance artists and/or dance companies with the intention of the finished work being presented during the 2021 Dancing on the Edge Festival ( July 8-17)  in Vancouver, B.C.
Proposals are open to dance artists and dance companies from all cultural backgrounds and disciplines, who are working in a contemporary context.  Five commissions will be awarded to applicants who reside or are based in the province of British Columbia with one commission being awarded to an out of province Canadian dance artist and/or company.
Although all levels of experience are welcome to apply, the festival will make a concentrated effort to award commissions to mid-career and established dance artists and companies.  One emerging dance artist or company will be considered.
The duration of an intended Covid Commission for the 2021 Dancing on the Edge Festival is 20-25 minutes.  Proposed works can include new work, works currently in progress or the development of a pre-existing work.
To apply, please submit the following information by email to info@dancingontheedge.org in a PDF or word attachment by September 30th, 12 midnight PST:
Proposal of work to be commissioned (1500 words)
Please provide a full description of the work you wish to create including theme,  style of work and why the work is important for you to create at this point in your career.   Include names of collaborators if you know who they will be and what their role will be in the work.  Outline why it is important for you to receive this commission and how it will it be useful in your artistic development process.
2. Personal or Company Bio (500 words)
3. Budget for the completion of the Intended work. Should the commission being sought not cover the full costs of the completion of the commission indicate other sources of revenue.  Presentation fees will be paid for the performance of the work at the festival. 
4. Video Support Material
Please submit two different examples of your work (5 minutes max each) via a Vimeo or Youtube link.  Do not send two different versions of the same work.   
For further inquiries, please email info@dancingontheedge.org