Streaming via Youtube
Approx. Running Time: 20 mins
BIOGRAPHIES
Kâ- Nîmihitot Atayohkan
resonance
Jeanette Kotowich
Vancouver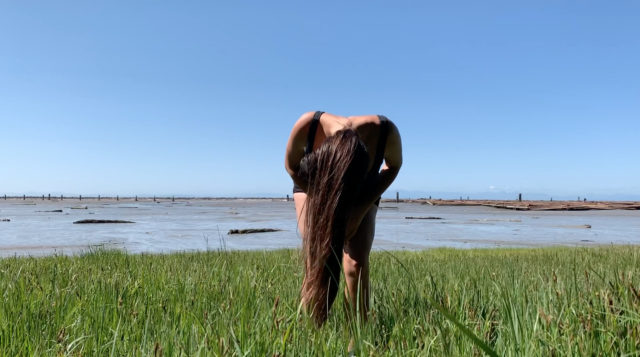 I create work that references protocol, ritual and my relationship to the natural/spiritual world, which is born out of my desire to reflect a Métis cultural narrative within the context of contemporary Indigenous dance performance. Through holistic and expansive approaches, I aim to create work that is timeless; that contains expressions of the ancient, contemporary and Indigenous futurism. My practice is both intergenerational and vocational; it's a living and lived experience. Focusing on land-based research and creation, I infuse performance with ancestral knowledge.
Jeanette resides in the unceded, ancestral territory of the xʷməθkʷəy̓əm (Musqueam), Skwxwú7mesh (Squamish), Səl̓ilw̓ətaʔɬ (Tsleil-Watuth) First Nations. Vancouver, Turtle Island.
Jeanette Kotowich – Choreographer, Performer, Videographer and Video Editor
Jeanette Kotowich is a Vancouver-based dance artist and choreographer of Cree Métis and European descent. Originally from Treaty 4 territory Saskatchewan, Jeanette is passionate about blending contemporary and Indigenous practices. Jeanette is currently choreographing a full-length, solo dance performance called Kisiskâwican. Previous works include:  Eloise (2017) and Steppin' (2015) which toured to more than 40 stages across Canada, including BC, Ontario, Saskatchewan and the Yukon. She is co-founder of Métis dance collective Acuhko Simowuk and works as a company dancer with Dancers of Damelahamid, Raven Spirit Dance, and V'ni Dansi. She is a Laureate of the Hnatyshyn Foundation REVEAL Indigenous Art Awards.
Kwan Yin
Ziyian Kwan/Lihuen Kwan | Dumb Instrument Dance
Vancouver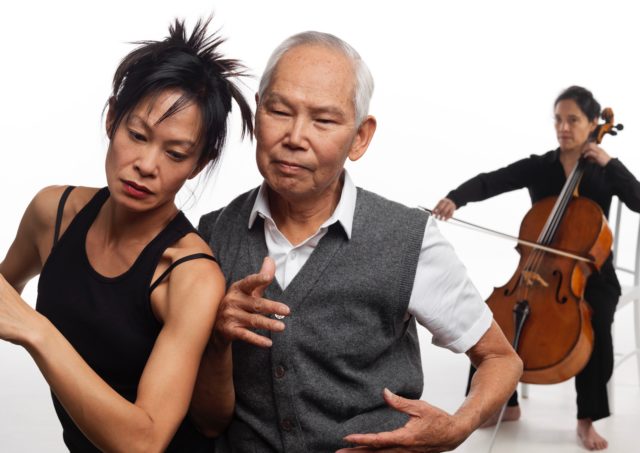 Kwan Yin was created by Ziyian Kwan with her father Lihuen Kwan and cellist Peggy Lee in 2017. The work is inspired by the Chinese Bodhisattva of Compassion, who had origins in India before travelling to China to become Kwan Yin. Nowadays, you might see her as a porcelain figurine or plastic car ornament. Ziyian and her father invited Kwan Yin into their creative process, sourcing her Sanskrit mantra to engage with the 'emptiness' nature of being. In so doing, they found grace in an otherwise tempestuous familial relationship. Both father and daughter are pleased to share a short video for this year's Dancing On The Edge.
Ziyian Kwan – Choreographer and Performer
Ziyian Kwan has worked as a Vancouver based dance artist since 1988. As an interprète, she has performed close to 100 original creations by an eclectic range of choreographers on international stages and is recipient of the Isadora Award for excellence in performance. As Artistic Director of Dumb Instrument Dance, Ziyian's choreography abstracts lived experience to create collages of imagery and prose. Ziyian creates with an intersectional ethos and is interested in subverting the status quo. Whether in her own work or in that of other artists, Ziyian's artistry over three plus decades has been indelibly touched by collaboration with luminaries in the fields of dance, music, film, theatre and visual art.
Lihuen Kwan – Choreographer and Performer
Lihuen Kwan is a retired civil servant whose hobbies include hiking, swimming and Tai Chi. He is a scholar of The I Ching, of Sanskrit Buddhist texts and also enjoys the study of Traditional Chinese Medicine, Chinese Calligraphy, Taoism and Confucianism.
Peggy Lee – Composer and Performer
Peggy Lee leads or co-leads ensembles including the Peggy Lee Band, Film In Music, Echo Painting, Waxwing, and Handmade Blade. In addition to these projects, Peggy maintains associations with local artists such as Tony Wilson, Ron Samworth, Lisa Miller and Joshua Zubot. She also collaborates regularly with Wayne Horvitz , Robin Holcomb and Mary Margaret O'Hara. Peggy has also collaborated in theatre and dance with artists Electric Company, Ruby Slippers, Rumble theatre, Presentation House, Ziyian Kwan, Machinenoisy, EDAM and Kokoro Dance. Peggy is the recipient of a number of awards including the Freddie Stone Award (2005) and the Vancouver Mayor's Arts Award for music ( 2013).
Stuck
Emotional Houdini
Tara Cheyenne/Allison Beda | Tara Cheyenne Performance/A Muse Productions
Vancouver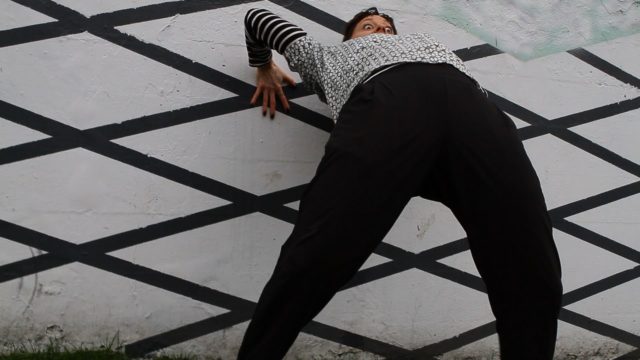 These two short films are "work in progress" segments of what will be a larger video-based artwork entitled I CAN'T REMEMBER THE WORD FOR "I CAN'T REMEMBER" which is adapted from Tara Cheyenne Friedenberg's one-woman stage show I CAN'T REMEMBER THE WORD FOR "I CAN'T REMEMBER".
Tara Cheyenne Friedenberg – Choreographer, Performer and Hair & Make-Up
Tara Cheyenne Friedenberg is an award-winning creator, performer, choreographer, director and writer. Artistic Director of Tara Cheyenne Performance, she is renowned as a trailblazer in interdisciplinary performance and as a mighty performer "who defies categorization on any level"(The Georgia
Straight). Tara is celebrated nationally and internationally for her unique and dynamic hybrid of dance, comedy and theatre. The string of celebrated full-length solo shows to her credit includes bANGER, Goggles, Porno Death Cult, and I can't remember the word for I can't remember, and she partners regularly on multidisciplinary collaborations, commissions and boundary-bending ensemble creations. Tara performs her works around the world- highlights include DanceBase/Edinburgh, South Bank Centre/London, On the Boards/Seattle USA, and High Performance Rodeo/Calgary. Recent works include The Body Project (premiering 2021/22 season) The River with dance artist Miriam Colvin and artist/activist Molly Wickham (premiering 2021 in Wet'suwet'en Territory), empty.swimming.pool with Italian dance/performance artist Silvia Gribaudi, (Castiglioncello, Bassano, Victoria, B.C. and Vancouver, B.C.), how to be (Vancouver, B.C.) , and I can't remember the word for I can't remember (soon returning to touring). She has choreographed for 7 seasons of Bard on the Beach, The Arts Club, Vertigo Theatre (Calgary), Studio 58, The Firehall Arts Centre, Ruby Slippers Theatre, Neworld Theatre, Itsazoo Theatre/Frank Theatre, and Decidedly Jazz Dance Works among others. Tara lives on the unceded and traditional territory of the xʷməθkʷəy̓əm (Musqueam), səlil̓wətaɁɬ (Tsleil-Waututh) and Sḵwx̱wú7mesh Úxwumixw (Squamish Nation)/East Vancouver with her partner composer Marc Stewart and their son Jasper.
Allison Beda – Director, Cinematographer, Lighting Designer and Editor
Allison Beda's film and video based artistic practice delves into the personal, examines passion and obsession, often poetically exploring the intersection of cinema, dance and "narrative" (which is sometimes
documentary), resulting in bold and unique films. Ms. Beda's award winning work has screened internationally at festivals, in theaters, on television, in art galleries, on billboards, in the metro and even at the Olympic games. Her company A Muse Productions has a penchant for delightfully, deliriously flawed characters, and is particularly fond of telling funny stories about intelligent women, making inspired, though sometimes foolish choices. Allison was selected to the RIFF 2019 Talent Lab in Iceland with her upcoming project I CAN'T REMEMBER THE WORD FOR "I CAN'T REMEMBER" and feature comedy screenplay UNPREDICTABLE (also a BET Network Top Ten finalist). Allison has a BA in film from Simon Fraser University, and an MFA from University of British Columbia. Her experience as a IATSE camera operator on studio movies and network series helped her hone her strong visual style, while working as Associate Producer on television series such as SYFY's "12 Monkeys" taught her exactly when you can (or cannot) "fix it in post".
Marc Stewart – Composer, Recordist, Sound Designer and Sound Mixer
Marc is a composer, sound designer, musician and songwriter making music for theatre, contemporary dance, and film. Productions of which have been performed or screened throughout Canada, Europe, Asia and Mexico. He has worked with Neworld Theatre, Allison Beda/A Muse Productions Inc., Tara Cheyenne Performance, Amber Funk Barton/the response, Peter Bingham/EDAM, The Contingency Plan, Brenda Leadlay/Presentation House Theatre, Donna Spencer/Firehall Arts Centre, Alvin Tolentino/Co. Erasga. Marc is also a podcast producer and creator. He lives, works and plays with his family on the unceded and traditional territories of the xʷ məθkʷ əy̓əm (Musqueam), səlil̓wətaɁɬ (Tsleil-Waututh) and Sḵ wx̱wú7mesh Úxwumixw (Squamish Nation)/East Vancouver.