Programs
Edge 1
FAMILY DINNER: The Lexicon | Justine. A Chambers
Container | Action at a Distance | Vanessa Goodman
SUBMISSION TO ENTROPY | Karissa Barry
Liminal | Constance Cooke
Firehall Arts Centre
FAMILY DINNER: The Lexicon
A Special Dancing on the Edge Commission | Justine A. Chambers
Vancouver
Through the development and performance of Family Dinner (May 2013-February 2015) the bodies of the performers became imperfect recording devices for the social and dining gestures culled from each guest. In Family Dinner: The Lexicon these gestures are distilled, re-organized and extracted from the immersive performances of their origin. The work is a re-presentation of each gesticulation framed as a live catalogue – an archive of a shared movement vocabulary. It asks that the performers call upon the memory of each guest and the embodied documentation process to access the knowledge embedded in their bodies as a way to navigate The Lexicon.

In this work the personal is depersonalized, the material for construction of identity is made open-source and the singular is made communal. (Alexa Mardon, Issue Magazine, 2014)
Family Dinner: The Lexicon is created in collaboration with and performed by: Alison Denham, Kate Franklin, Lisa Gelley, Aryo Khakpour and Josh Martin.
Conceived by: Justine A. Chambers
A Special Dancing on the Edge Commission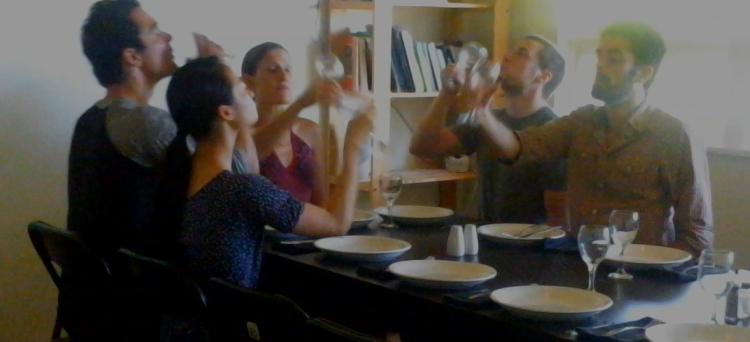 Container
Action at a Distance | Vanessa Goodman
Vancouver
A new work by choreographer and performer Vanessa Goodman that explores heritage, culture and resilience.
Vanessa Goodman is a Vancouver-based dance artist who creates independently as Action at a Distance, is Co-Artistic Director of The Contingency Plan and is a Small Stage Artistic Associate. She holds a BFA from SFU and continues her training locally and abroad. Vanessa was the recipient of the 2013 Iris Garland Emerging Choreographer Award. Independently she has interpreted works for Wild Excursions Performance, Justine A. Chambers, Jennifer Clarke, dumb instrument dance, the plastic orchid factory, Mascall Dance, Julia Sasso, Holly Small, Restless Productions and Judith Marcuse. Since 2006 she has been a company member with Dancers Dancing under Artistic Director Judith Garay. Vanessa has been commissioned to create works for the Dancing on the Edge Festival, The Gwaii Trust, and the SFU Dance Program (2010/11/13/15). Her work has been presented locally and nationally by various festivals and curators. She has facilitated workshops and master classes throughout BC and in Toronto.
Music: The Barry Sisters & Mica Levi arranged by Vanessa Goodman  | Lighting Design: James Proudfoot
Photo: Jeff Pelletier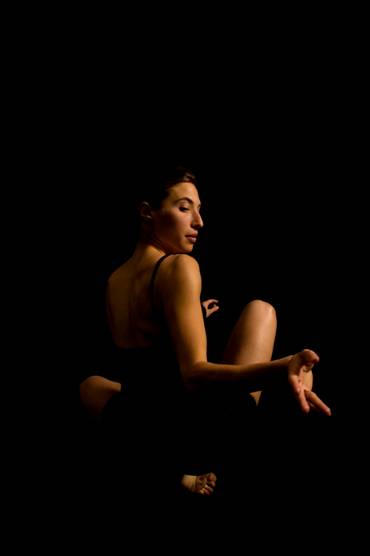 SUBMISSION TO ENTROPY
Karissa Barry
Vancouver
Entropy is commonly known as a measure of disorder, randomness of a system, or of our lack of information about it. This work follows the transformation of two beings that evolve through the discovery and recognition of disorder in the space that exists around and inside them, uncovering layers within, and shifting the physical reality. Performers and collaborators: Lexi Vajda and Jessica Wilkie.
Original Lighting Design: Rob Sondergaard | Music Composed by: Stefana Fratila
Photo: Yvonne Chew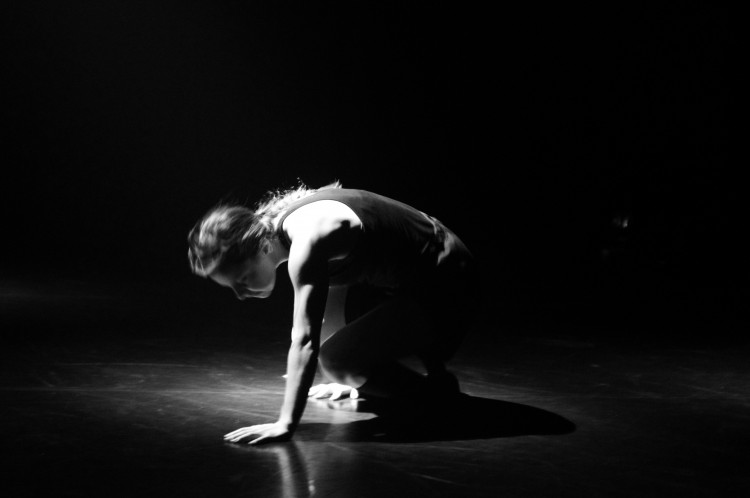 Liminal: The Space Between (excerpt)
Constance Cooke
Victoria
Liminal is a haunting ephemeral work that explores the threshold or place of change between worlds. The journey is animated though a landscape of paper, metal fans and a careening installation. Video projections from fixed and battery-based mobile projectors provide visual echoes to establish an external emotional dimension for the performance. Performed by Mark Sawh Medrano.
Constance Cooke is a Canadian dance artist with a professional career that has spanned over 20 years. Cooke's works for stage and screen dance have been presented in Canada, the United States, England and Germany by festivals and presenters such as Dancing on the Edge, The Reel film festival, Romp, Dance Matters, Intrepid Theatre, Kinetic Cinema, The UNO Festival, The Fringe Festivals, Crimson Coast, Bounce, Dance on Camera Film Festival, Dance Ontario, Dance Victoria and Media-Net. She has self-produced her own work and shared programs with other artists and companies, including Brent Lott, Sharon Moore, Josh Martin and Suddenly Dance Theatre. Constance has also been commissioned to create a number of solo works including Surfacing, which premiered in Winnipeg in October 2014. Recent commissions for dance companies include Ballet Victoria, Cadence Contemporary and White Birch. Cooke is funded by the Canada Council for the Arts and the British Columbia Arts Council. This season she received a residency with Dance Victoria where she completed phase one of the creation period for Liminal.
TALKBACK – There is an artist talkback following the July 3 performance of EDGE 1 in the Firehall Arts Centre studio.