Programs
Dance Machine
battery opera/Lee Su-Feh, Jesse Garlick, Justine Chambers
The Hopbopshop, 150 McLean Dr
PERFORMANCE DATES
| | | | |
| --- | --- | --- | --- |
| Tues, July 8, 2014 | 1:30-5:30pm | The Hopbopshop | By Donation, drop-in |
| Wed, July 9, 2014 | 1:30-5:30pm | The Hopbopshop | By Donation, drop-in |
| Thurs, July 10, 2014 | 1:30-5:30pm | The Hopbopshop | By Donation, drop-in |
| Fri, July 11, 2014 | 1:30-5:30pm | The Hopbopshop | By Donation, drop-in |
| Sat, July 12, 2014 | 1:30-5:30pm | The Hopbopshop | By Donation, drop-in |
Dance Machine
battery opera/Lee Su-Feh, Jesse Garlick, Justine Chambers
Vancouver
ma·chine
noun
1. an apparatus consisting of interrelated parts with separate functions, used in the performance of some kind of work
2. a mechanical apparatus or contrivance; mechanism
3. a device that transmits or modifies force or motion.
Come play with us! Lee Su-Feh , Justine Chambers and Jesse Garlick have built a giant DANCE MACHINE (say what?!). During the Edge, they have invited guest artists to work and experiment inside it. Come watch and join them in this playful and meditative interactive installation.
GUEST ARTISTS: Josh Martin, David Raymond & Tiffany Tregarthen, Bracken Hanuse Corlett.
VENUE LOCATION: The Hopbopshop, 150 McLean Dr at Powell (2nd Floor Westside Entrance). Street Parking available on MacLean Drive.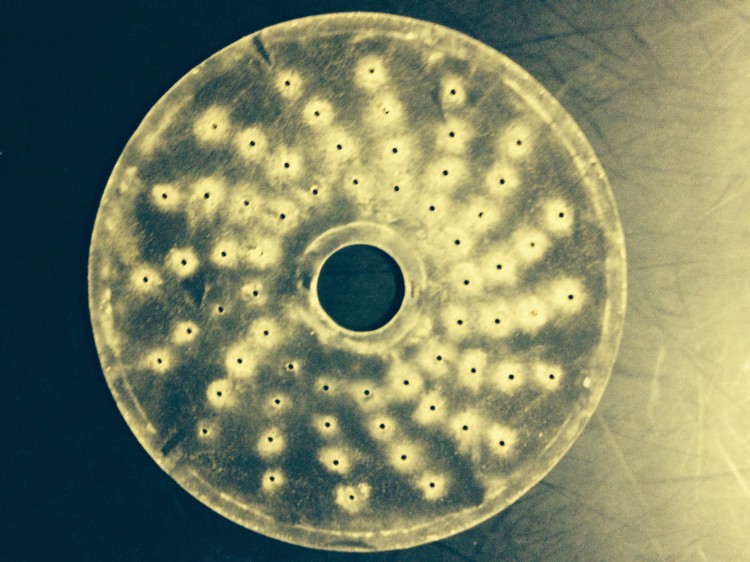 Lee Su–Feh is a dancer, choreographer, dramaturge, teacher and Artistic Director of battery opera, whose award-winning work interrogates the contemporary body as a site of intersecting and displaced histories and practices. Recent works include her solo Everything and Sweet Gyre, her second collaboration with Montreal choreographer Benoît Lachambre and Juno-award winning composer Jesse Zubot. Apart from making Dance Machines, she is currently studying Fitzmaurice Voicework, and is one of the 5 choreographers in Migrant Bodies, a Canada-E.U choreographic project ruminating on migration and its implications.
Justine A. Chambers is a Vancouver-based contemporary dance artist. She is a founding member of projet bk, and is one of five artists in residence at ten fifteen maple. Her projects have been presented at the Western Front, The VAG, Dancing on the Edge Festival, Dance in Vancouver, and EDAM. Her collaborative practice includes projects with visual artists Josh Hite, Brendan Fernandes, Marilous Lemmens & Richard Ibghy, Jen Weih, and performance/dance artist Claudia Fancello. She is currently working with battery opera, adelheid dance projects, The 605 Collective/Theatre Replacement, Tara Cheyenne Performance and Out Innerspace Dance Theatre. Chambers leads classes in contemporary technique and creation strategies/tactics.
Jesse Quinault Garlick has collaborated on a diverse range of projects in California, Oregon, Washington State, B.C. and Norway.  In 2014 he founded PLATFORM architecture + design, a practice dedicated to both architectural services and artistic collaborations. Recently, he has worked with many theatre and dance companies, including Theatre Replacement, Anatomica, Proximity Arts, battery opera, Leaky Heaven Circus and is currently an artistic associate with Radix Theatre Society.  Jesse is also a new father and very inspired to see his son Theodore explore the world.  www.p4ma.com
GUEST ARTIST SCHEDULE
Tuesday July 8 1:30-3:30 – Tiffany Tregarthen and David Raymond (Out/Innerspace Dance Theatre)
3:30-5:30 – Bracken Hanuse Corlett
Wednesday July 9
1:30-3:30 – Josh Martin (The 605 Collective) 3:30-5:30 – Bracken Hanuse Corlett
Thursday July 10 1:30-3:30 – Josh Martin (The 605 Collective)
3:30-5:30 – Tiffany Tregarthen and David Raymond (Out/Innerspace Dance Theatre)
Friday July 11 1:30-3:30 – Tiffany  Tregarthen and David Raymond (Out/Innerspace Dance Theatre) 3:30-5:30 – Josh Martin (The 605 Collective)
Saturday July 12
1:30-3:30 –  Bracken Hanuse Corlett 3:30-5:30 – All Choreographers
Photo: Arctic Char