Programs
Dusk Dances
Hosted by | Tara Cheyenne Friedenberg
Unquiet Winds | Denise Fujiwara
Inner City Sirens part II | Julia Aplin
be graceful in the wind | Body Narratives Collective | Meghan Goodman
Cree Creation Story | Compaigni V'ni Dansi |Yvonne Chartrand
Portside Park
PERFORMANCE DATES
| | | | |
| --- | --- | --- | --- |
| Fri, July 4, 2014 | 7:00pm | Portside Park | Pay What You Can |
| Sat, July 5, 2014 | 7:00pm | Portside Park | Pay What You Can |
| Sun, July 6, 2014 | 7:00pm | Portside Park | Pay What You Can |
RE: Weather. This show goes ahead rain or shine. Bring rain gear if the weather looks lousy.
"as close as possible to a perfect evening" Vancouver Sun
Dancing on the Edge welcomes Dusk Dances back to the festival and salutes them for their twenty years of creating works in Toronto parks. Since first bringing Dusk Dances to the festival in 1999, it has become one of our most popular events. An eclectic range of site-specific dance pieces created by Vancouver and Toronto choreographers with live music from the Carnival Band will enliven the inner city oasis of Portside/ Crab Park. Audiences can either meet at the park or go to the Firehall 10 mins prior to showtime and the Carnival Band will escort them to the park. Bring your chairs and blankets, and get ready for a breathtaking evening of live performance!
duskdances.ca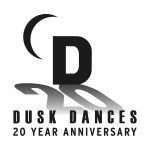 Unquiet Winds
Denise Fujiwara
Performed by Sylvie Bouchard and Brendan Wyatt, Unquiet Winds is inspired by medieval Japanese and European love poems. Its creation employs principles of Japanese Butoh dance.
"I saw a girl under green laurel
Colder and whiter than the snow
Untouched by the sun for many years".
Francesco Petrarch
"Imperceptible
It withers in the world
This flower-like human heart."
Komachi
First premiered at Dusk Dances 2013.
Image: Dusk Dances 2013, Withrow Park
Photo: Joseph Michael Photography
Performers: Brendan Wyatt and Sylvie Bouchard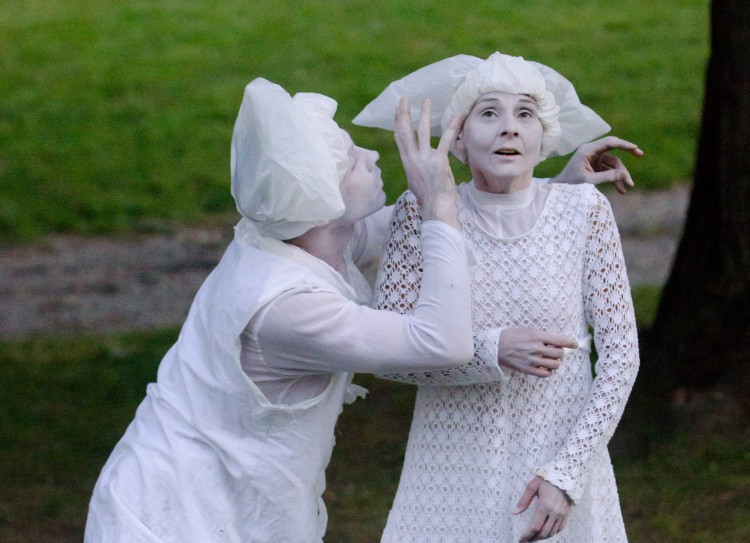 Inner City Sirens II
Julia Aplin
Reigning World Champions in the sport of pairs synchronized swimming for petite pools! Cheer the athletes on as they strive to overcome challenges and thrive in the glory of the sport. Performed by Mairéad Filgate and Brodie Stevenson, and musicians Blake Howard and Jesse Baird.
First premiered at Dusk Dances 1998.
Image: Dusk Dances 2011, Withrow Park
Photo: Joseph Michael Photography
Performers: Molly Johnson and Brodie Stevenson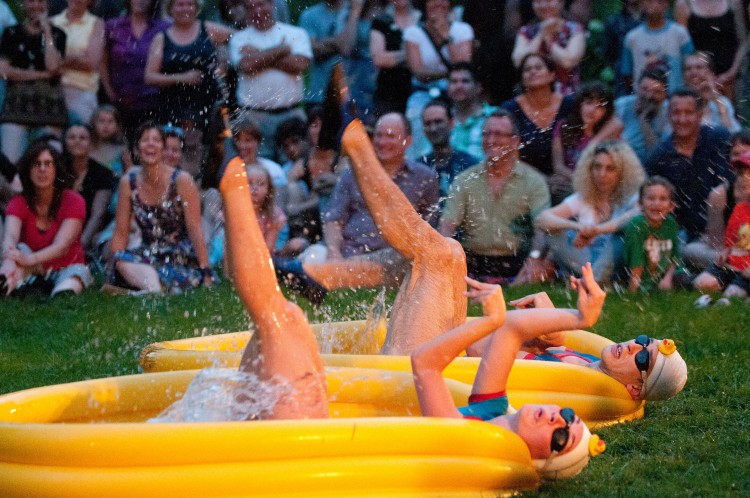 be graceful in the wind
Body Narrative Collective | Meghan Goodman
In a salute to the majestic tree, be graceful in the wind celebrates the spirit, magic and mystery of the West Coast rainforest. This enchanting trio features performers Julia Carr, Susan Kania, and Meghan Goodman.
Costumes by Maggie Winston.
Cree Creation Story
Compaigni V'ni Dansi
An excerpt from Yvonne Chartrand's Cooking It Up Métis, Cree Creation Story is a contemporary dance work inspired by an Elder's storytelling of the beginning of time from the Cree perspective, portraying the Cree peoples' relationship with Mother Earth, water and the star nation.
NOTE: Yvonne Chartrand will also be participating in a free discussion on Monday July 7,  7pm at the Firehall (280 East Cordova). Read more.
Image: Tim Matheson