Programs
Edge 2
TRACING MALONG | Co.ERASGA | Alvin Erasga Tolentino
Just Words (excerpt) | Les Productions Figlio | Serge Bennathan
Femme Fatales | Meredith Kalaman
Firehall Arts Centre
TRACING MALONG
Co.ERASGA | Alvin Erasga Tolentino
Vancouver
A new solo work that traces the reflective symbols and use of the indigenous Filipino fabric Malong in everyday life. Tracing Malong reveals the juxtaposition of tradition and contemporary realization expressed in Tolentino's signature dance language intricately woven through a fabric story of social function and status.
Original Score by Emmanuel Mailly Agglomerat
Alvin Erasga Tolentino's solo and ensemble work spans global audiences. An unpredictable contemporary performing artist renowned for combining sublime Asian minimalism with abstract and startling kinetic expression, Tolentino expresses a unique language that is cross cultural, multi-media and hybrid. In 2000 he founded Co.ERASGA, which promotes the art of dance by collaborating with dancers and choreographers and working with diverse art forms such as music, film/video, theatre, and the visual arts. To date, Tolentino has created multiple full-length creations for the company that includes SOLA 2000, BATO/Stone 2001, FIELD 2003, SHE SAID 2004, OrienTik/Portrait 2005, and BODYGlass in 2006/07 with Peter Chin, PARADIS/Paradise in 2008, ADAM/Eve-Man/Woman in 2009, Shadow Machine in 2010, EXpose in 2011, Colonial in 2012/2013 and Shifting Geography in 2014. The company has presented work across Canada and in festivals and venues as far as Scotland, France, Italy, Belgium, the Philippines, Singapore and Venezuela.
Photo: Kiku Hawkes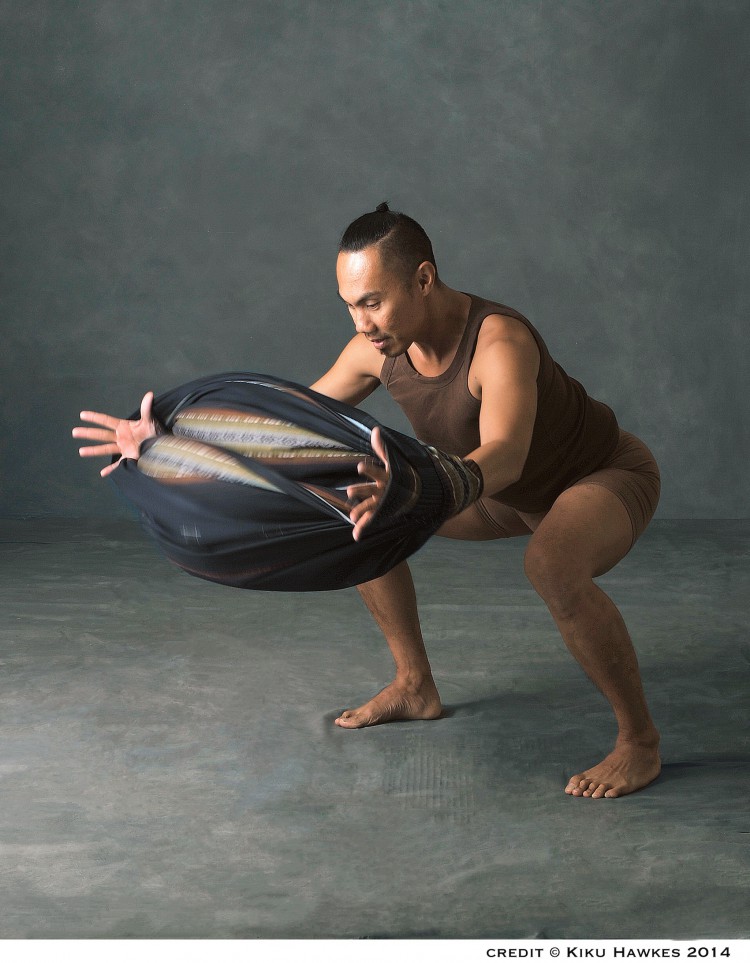 Just Words (excerpt)
Les Productions Figlio | Serge Bennathan
Vancouver
Inhabiting a space between poetic tale and personal reflection, Just Words sketches a portrait in words and movement of both the profound and happy characteristics that shape an artistic life. In this intimate piece, writer and choreographer Serge Bennathan confronts the reality of becoming an 'artistic orphan', a challenge that every artist faces as important people and influential mentors in their lives disappear.  At the same time, artists embrace increased freedom and openness as their journey progresses. Bennathan's poetry interweaves with Karissa Barry and Hilary Maxwell's powerfully physicality, inviting us to reflect on the essence of beauty.
Femme Fatales
Meredith Kalaman
Vancouver
Femme Fatales investigates the accusations that lead to the murders of tens of thousands of women and men in North America and Europe. Choreographed by Meredith Kalaman and performed by Kalaman, Teghan Fedor and Kate Franklin, this poetic trio observes the evolution of femininity, and points fingers at just how far we have and haven't come in our understanding of gender socialization.
Meredith Kalaman has performed with the Karen Jamieson Dance Company since 2008. She has also performed works by Noam Gagnon, Judith Garay, Judith Marcuse, Day Helesic, Kate Franklin, Farley Johansson, Julie Lebel and Kirsten Wiren.  Company Credits include: the Karen Jamieson Dance Company, Dancers Dancing, Judith Marcuse Projects and Movent.  She is a graduate of the Ballet BC Mentor Program, and a Member of CADAWest and the DTRC. Meredith's own choreography has toured across Canada, the US and throughout China.
Photo: Curtis Stodgell
TALKBACK – There is an artist talkback following the July 7 performance of EDGE 2 in the Firehall Arts Centre studio.