Programs
EDGE FIVE
F-O-R-M on the edge | F-O-R-M (Festival of Recorded Movement)
Streaming via Youtube
This 'F-O-R-M on the edge' DOTE screening features some of our 2019 festival favourites selected from our official selections and commissioned films. Co-Curated by Tamar Tabori and Sophia Wolfe, these films speak to narrative and non-narrative explorations of communicating via movement on screen. How can the body relay what words cannot? What stories unfold when we take the time to listen with our eyes?
Creator|Company: F-O-R-M (Festival of Recorded Movement)
Co-Curators: Tamar Tabori, Sophia Wolfe
Run-of-the-Whip-Poor-Will | Tamar Tabori 
Routines, patterns, and cycles are a part of human behaviour. By breaking a habit and practicing the opposite, we are challenging what is normal. We are constantly evolving and moulding ourselves to new contexts and environments this is how we, as humans, find ordinary. We carry forth what we know into our unknowns, creating adaptations and new norms. The more you sit and think about it, the more the normal becomes bizarre. If "one man's trash is another man's treasure," then one man's ordinary is another man's extraordinary.
Choreographer, Performer, Editor: Tamar Tabori
Co-Artistic Director, Cinematographer: Alan McTavish
Sound Designer, Music Composition: Evan Stephanian
Production Assistant, Photographer: Yaara Eshet
Running Time: 8 mins 59 secs
Trace, Tread | Jenna Mazur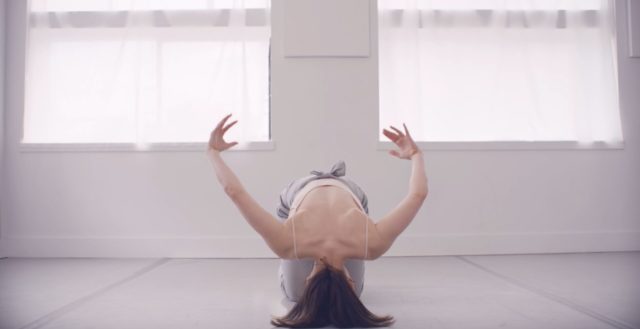 An otherwise typical day in the studio is shifted when a dancer's notes animate into geometric objects. The magic that exists in the mundanities of the everyday is made physical as the dancer stirs the room with her energy and ideas. Memories of movement hang in the air until the momentum of ideas are exhausted.
Concept, Direction, Production: Jenna Berlyn, Dane Armour
Dancer, Choreographer: Jenna Berlyn
VFX, Director of Photography, Editor: Dane Armour
Camera Operator: Richard Witting
Original Music: Isak Enquist
Sound FX: Jenna Berlyn
Stylist: Xanthe Rose
Stop Motion, Illustration: Shauna Griffin
Shoot Assistants: Jaegar Sarauer, Milan Miguel, Mia Metz, Josh Quissy, Xanthe Rose
Mentors: Sammy Chien, Nancy Lee, Sophia Wolfe
Graphic Design Consultation: Flory Huang
Transportation: Iris Stewart-Bosch, Iris's Dad, Chelsea Goddard, Mikayla Mazur, Jaegar Sarauer, Richard Witting, Shauna Griffin, Milan Miguel
Running Time: 3 mins 25 secs
INCLINATIONS | Danielle Peers 
**The July 8 screening of this film will be audio-described.**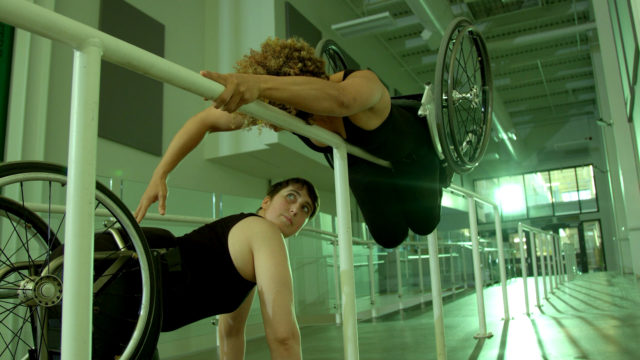 Choreographed, directed and shot from disability perspectives, this dance-on-video short contrasts the playful connections when disability aesthetics, community and a ramp meet the institutional histories and discordant inclinations that can lurk just below the surface.
Director: Danielle Peers, Alice Sheppard
Assistant Director: Lisa Niedermeyer
Producers: Danielle Peers, Disability Dance Works, LLC
Choreographer: Allice Sheppard in collaboration with dancers
Dancers: Alice Sheppard, Harmaine Taylor, John Loeppky, Danielle Peers
Camera Director and Editor: Mike Robertson
Camera Assistant and Lighting: Bob L'Heureux
Production Assistant and Process Doula: Lindsay Eales
Production Coordinator: Julie Ferguson
Sound Design and Score: Dan Wool
Visual Description: George McRae
Set Assistants: Janita Frantsi, Angela Sekulic
Equipment Rental: The Film and Video Art Society of Alberta
Facilities and on-site support: Dean Budynski, Kassidy Bullock, Janelle Downing-Bake, Brian Gatric, Cheryl Hardwardt, Hania Kura, Alyssa Pietucha, Andrew Smith, Omar Yusuf
Running Time: 5 mins 40 secs
Moments of Movement #90 | Mark Valino
This freestyle dance video series is about trying to capture that perfect moment between dancer, filmmaker, and surroundings as they connect through music. These one-of-a-kind interpretations are a form of self-expression for both dancer and filmmaker who both react and express through the music, environment and each other. This series explores improvisational creativity, collaboration and expression of 3 different mediums, of dance, music, and cinematography, as well as exploring the universal language of music. The artists not only connect to the music, but also their surroundings where simple corners turn into colorful canvases. As the artists move through the space, the colors, shapes, and movements are captured by the cinematographer. Creatives often over-edit and self-censor themselves, therefore this short time span limits that habit, compelling them to embrace their imperfections and allows the artists more spontaneity in that moment. Additionally, many of the artists have found these moments to be challenging and inspiring and were grateful for this liberating experience.
Director: Mark Valino
Dancer: Knex (Mark Barias)
Music: Spek Won ft. Shi Wisdom & Nevon -"Moorish Code"
Running Time: 3 mins 27 secs
Origins | Sebastian Hill-Esbrand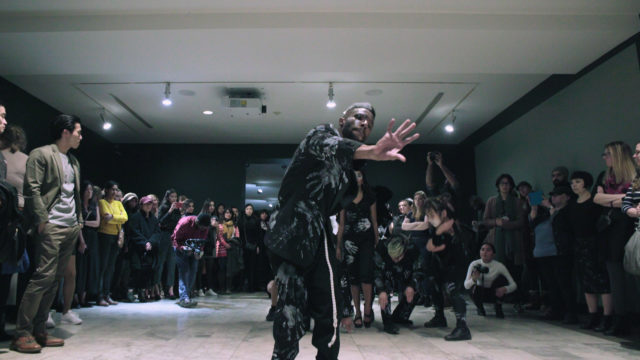 Origins is a movement installation piece which explores ancestry through movement and the universality of rhythm and music. We will explore the memories that are held within the body and soul, to ignite a connection between our ancestors who used music and rhythm as ceremony, celebration, mourning, play, and announcing war. We remember that our ancestors speak through us, forever sending signs; reminders of the many before us and the origins that connect us.
Director: Sebastian Hill-Esbrand
Creative Direction/Dance/ Choreography: Immigrant Lessons
Director of Photography: Tim Saylor
Camera Operator: Bruno Charal, Christian Lavery
Editor: Kelsey McGowan
Sound Designer and Mixer: Amnie Bouzaher
Running Time: 3 mins 25 secs
Kariskis | Tin Gamboa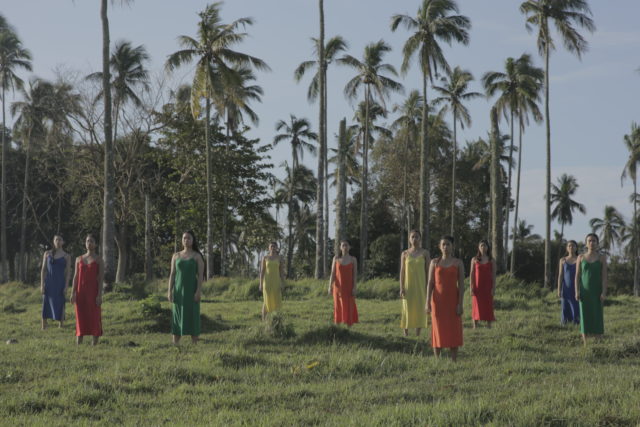 Whilst each of us is a product of our histories, we experience the harvest of previous generations. We can be mindful of how the past has affected the present when making present decisions for our future — we can till the soil for future generations, prune out weeds, plant new seeds, give the land time to rest, and dance for abundance and fertility.
Director, Editor, Choreographer: Tin Gamboa
Production Manager: Kayla De Vos
Dancers: Deborah Lynn Espiritu Afuang, Aisha Leonardo Polestico, Madge Reyes, Jomelle Era, Sofia Costales, Paulina Reyes, Anna Montserrat Guerrero, Dane Afuang, Mika Fabella, Carissa Laurel
Directors of Photography: John Michael Huang, Deej Fabian, Sami GA
Running Time: 7 mins 33 secs
soft teeth | Zahra Shahab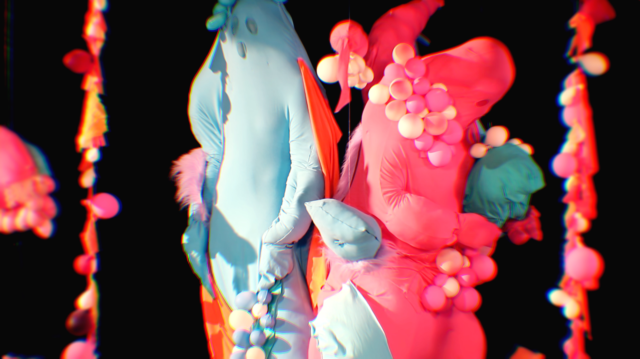 soft teeth is an experimental video about mutant creatures that undergo several processes of metamorphosis. It is a playful illustration of metaphysical queer identity in its indefinability and perpetual state of emergence. The creatures morph and merge, birthing new versions of themselves while finding synthesis with their physical landscape. Their soft bodies become a terrain of potential, with body parts growing, shrinking, and changing colour. An emphasis on the fantastical allows room for the entities to not rely on a stable future or a concrete narrative, but instead exist in a continually amorphous, unpredictable state.
Director and Choreographer: Zahra Shahab
Art Director and Director of Photography: Arya Hawker
Editing: Zahra Shahab, Arya Hawker
VFX: Arya Hawker
Costume and Installation Designer/Construction: Zahra Shahab and  Ileanna Cheladyn assisted by Stéphanie Cyr and Juolin Lee
Performers: Hayley Gawthrop, Diego Romero
Sound Designer: Roxanne Nesbitt
Running Time: 6 mins 37 secs
THIS IS FOR US | Shanel Edwards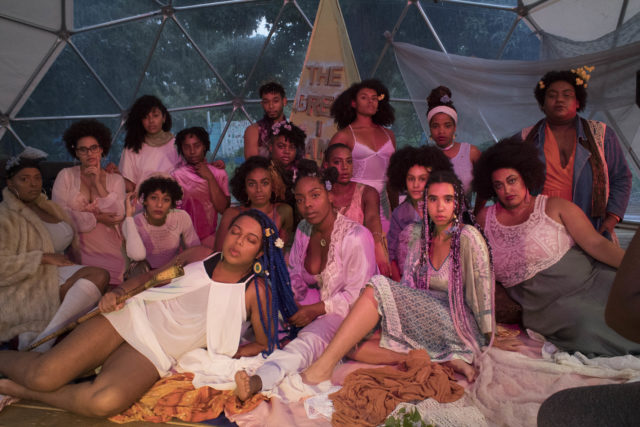 THIS IS FOR US is a multidisciplinary visual that centers Black Queer Femme radical joy and intimacy in our relationship. We always cultivated magic between us and know healing through tea, glitter, whiskey and a good belly laugh. We thrive despite ANY attempts to kill us. Lucille Clifton says:"Come celebrate with me that everyday something has tried to kill me and has failed." This is our resilience, this project is void of our trauma.
Director, Producer, Choreographer, Dancer: Shanel Edawards
Cinematographer, Assistant Producer: Kayla Watkins
Assistant Producer: Chris Lester
Sound Designers: Cvgebird, Jacqueline Constance
Dancers: Chloe Newton, Nyla Murray, Cierra Woods
Running Time: 6 mins 2 secs