Programs
EDGE TWO
ZAUM | MascallDance
Moi-Me-Man | Nasim Lootij & Kiasa Nazeran / Vâtchik Danse
Firehall Arts Centre
ZAUM
MascallDance
Vancouver
Jennifer Mascall is now distilling her 2018 production OW into a touring production. Her research into the connection of voice and body led to  OW (2018),  by turns loud, tender, explosive and hilarious. The upcoming Zaum focuses the massive energy of the original 18 member ensemble into the power of 4.
The production's libretto, constructed entirely of gibberish, emerged through close collaboration between Mascall and the dancers with experimental voice expert DB Boyko. Performing live, composer and violist Stefan Smulovitzper forms his original electronic score, while the audience sits high above the action. Shaw Festival costumier Christopher David Gauthier's designs further heighten the experience.
Choreographer: Jennifer Mascall
Performers: Marisa Gold, Livona Ellis, Darcy McMurray, Tin Gamboa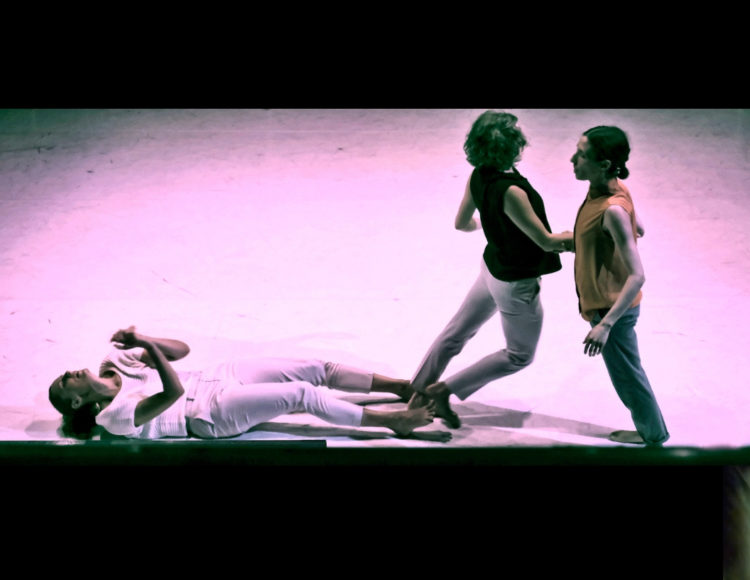 Moi-Me-Man
Nasim Lootij & Kiasa Nazeran / Vâtchik Danse
Montreal
"The past is never dead. It's not even past.", said William Faulkner. The past is therefore present and its presence sometimes weighs heavily on the shoulders of those who lived a life charged with socio-political events. Among these people, some try to represent the heaviness of these events by words or
images. This is the case for the German philosopher Hannah Arendt, who lived through one of the most frightening periods of the 20th century. This experience allows her to assimilate human soul to a battlefield where forces of the past and those of future confront one another. (Between Past and Future, 1972) This metaphor, along with the images and sounds that this solo's creators saw and heard of the Iranian revolution (1979) and Iran- Iraq war (1980-1988), inspired them to create Moi-Me-Man.
Creators: Nasim Lootij & Kiasa Nazeran
Choreographer, Performer and Sound Designer: Nasim Lootij
Dramaturge and Voice: Kiasa Nazeran
Lighting Designer and Technical Director: Benoit Larivière
Sound Supervisor : Alex Lachapelle Raymond
Text : Hannah Arendt (Between Past and Future)
Creative residency : José Navas/Compagnie Flak, MAI (Montreal Arts Interculturels)
This show benefited from the support of the Caisse Desjardins de la Culture with Tangent's
crowd fundraising campaign «Give a hand to move a mountain!» on KissKissBankBank.