Programs
Edge Up
NINEEIGHT | Hong Kong Exile
Re: Play | Naomi Brand
Cuckoo | Thoenn Glover
this hallow space has a corridor | Michael Kong et al
Firehall Arts Centre | All tickets $22
NINEEIGHT
Hong Kong Exile | Natalie Tin Yin Gan
Vancouver
無厘頭 (mo lei tau): a phenomenon of absurdist comedy that dominated 1990's Hong Kong cinema. Also known by the idiom "nine doesn't follow eight". Through the lens of 無厘頭, NINEEIGHT reflects on personal fractures, disorientation, and the significance of a "motherland" at times of transition – social, political, geographical. Performed by Michelle Lui, Alex Tam and Milton Lim.
Natalie Tin Yin Gan is an interdisciplinary artist specializing in physical theatre performance and choreography. She is based in Vancouver with a double degree in Contemporary Dance and International Studies from Simon Fraser University. Natalie continued her training at EDAM Dance with Peter Bingham and with two seasons at Modus Operandi. Her choreography has been presented in several festivals in Vancouver, Toronto, and Seattle. She is just back from a month of research at Dancers' Studio West in Calgary with Artistic Director Davida Monk. Natalie has worked extensively as a dance educator, producer, and community artist.
Media Design: Milton Lim and Remy Siu | Sound Design: Remy Siu  | Dramaturgy and Mentorship: Lee Su-Feh (battery opera) 
Photo: Sepehr Samimi
Re: Play
Naomi Brand
Vancouver
A duet exploring the tension that lies in the space between two bodies and exploits the heightened state of responsiveness that comes from being in close proximity to one another. Featuring Hilary Maxwell and Walter Kubanek.
Music: Chopin Nocturne played by Walter Kubanek
Naomi Brand is an independent dance artist and recipient of the Lieutenant Governor of Alberta Emerging Artist Award. She holds both a BA and an MFA from the University of Calgary. She has performed in the works of Tania Alvarado, Noam Gagnon, Helen Husak, Melanie Kloetzel, Sharon Moore, Davida Monk and Jason Stroh, among others. Her choreographic work has been featured in numerous venues and festivals across Canada as well as in Poland, Italy and Uruguay. In 2013, Naomi relocated to Vancouver where she is an Artist-in-Residence at the Roundhouse Community Art Centre and helped to launch the All Bodies Dance Project. Naomi is also an Associate Artist with Projet bk and a contributing writer with The Dance Current. 
Photo: Chris Randle
Cuckoo
Thoenn Glover
Vancouver
Depicted through the lifelines of three characters, Cuckoo explores the unconscious parts of the human psyche that steer the direction of our lives. We watch these characters battle their inner instincts and navigate through life's hurdles.
Thoenn Glover's background of growing up off the grid in remote Northern BC has given her an instinctual and visceral approach to her work, and a 'DIY/anything's possible' attitude towards the art form. She received her formal dance training at Arts Umbrella in 2009 and has worked as a Vancouver-based performer and choreographer since. In her choreography Thoenn is interested in bridging the aesthetics of cinema and contemporary dance. She has performed her work in Montreal, Whitehorse, Halifax, Calgary, Edmonton, Regina, and Vancouver. In 2012 she was recognized as an innovative creator and was featured in the Georgia Straight's Fall Arts Preview. Another facet to Thoenn's artistic practice is working with youth in schools: she engages the students as performers and as co-creators of the production and exposes them to working professionals in the field. Her goal is to ignite passion in youth for creating and participating in performance art. She hopes that this will help to cultivate art-conscious young adults in our Canadian culture.
Photo credit: Tracy Kolenchuk @ NextFest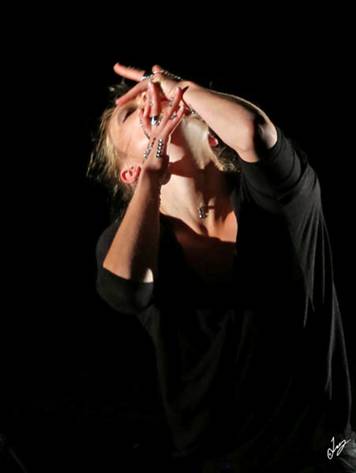 this hallow space has a corridor
Katie DeVries, Meredith Kalaman, Nathan Todd, Antonio Somera, Lindsey White, Michael Kong
Vancouver
When human emotion tries to access the mapping of memory we designate different sentiments upon each visit thus adulterating the truth from which the memory first took its origin. The players get lost within emotional corridors of narratives finding themselves further from the truth while trying to augment a deeper resemblance, a deeper confusion.
Directed by Michael Kong | Choreographed in collaboration with performers: Matilda Cobanli, Katie Devries, Meredith Kalaman, Michael Kong, Antonio Somera, Lindsey White
Michael Kong is a Vancouver based dance artist and holds a BFA in dance at Simon Fraser University. Additional training includes the Martha Graham School and the 2012/13 season of Modus Operandi. Michael has proudly danced for Judith Garay, Vanessa Goodman, Noam Gagnon, Paras Terezakis, Katie DeVries, and Daisy Thompson. Currently Michael is working for Rob Kitsos in his December 2015 premiere, Saudade.
TALKBACK – There is an artist talkback following the July 5 performance of EDGE UP in the Firehall Arts Centre studio.