Programs
Immigrant Lessons & CAMP
ORIGINS/ How Do We Co-exist? | Immigrant Lessons
PAM | CAMP
Firehall Arts Centre - Courtyard Stage
ORIGINS/ How Do We Co-Exist?
Immigrant Lessons
Is a dance theatre journey into a past that leaves echoes in the present. Witness six diverse young voices, as they dive into their unique stories, and journey through intersections of identity, to uncover the similarities, together through the mediums of: dance, theatre, voice, spoken word, and archives of the memories passed down. We voyage through histories of migration, separation, sacrifice, assimilation, unwavering hope despite all odds, and the ripples of the ones before us, guiding us through to the present. How do we sift away the debris of generations ago? How do we stand in the truths of how it has affected us in the present? How do we hold space for one another as we peel back the layers of traumas passed down? How do we coexist?
A COVID Commission work.
Full dance film of ORIGINS/ How Do We Co-Exist? screening on July 13th @ 9:00PM at the Firehall Theatre.
Creative Direction: Kevin Fraser (He/Him/They/Them)
Interpreters/Cast: Sophia Gamboa, Sevrin Emnacen Boyd, Simran Sachar, Tegvaran Singh, Hayden Pereira, Joshua Cameron
Dramaturge/Mentor: Justine Chambers
Mentors: Tonye Aganaba (Voice), Jillian Christmas (Creative writing/spoken word), Omari Newton (Theatre)
Director of Photography: Bradley Stuckel
Lighting Design: Andie Lloyd
1st AC: Titouan Fournier
2nd AC: Tyler O
Sound: Nina Lee
Music Composition: Amine Bouzaher, Jordan Lemoine
Stage Manager: Vanessa Yuen
IMMIGRANT LESSONS
Established in 2016, Immigrant Lessons is a Vancouver- based, international multidisciplinary art collective. Immigrant Lessons shifts and morphs, honouring change and transition, investigation and rebellion. Immigrant Lessons' exists in multiplicity as an arthouse, Research/creation Lab, youth artist incubator, interdisciplinary performance troupe, which utilizes and explores the mediums of: dance/movement, theatre, film, photography, spoken word, creative writing, music, fashion, visual media, and visual design. This collective creates, plays, and currently is based on the unceded territories of the xʷməθkʷəy̓əm (Musqueam), Sḵwx̱wú7mesh (Squamish), and Sel̓íl̓witulh (Tsleil-Waututh) Nations. As underground artists and street dancers, The Collective would also like to express deep love and gratitude for the innovations of black and latinx people and black culture. The collective is directed/founded by Queer Black multidisciplinary artist, Kevin Fraser. It's core artistic associates include: Sophia Gamboa, Sevrin Emnacen-Boyd, Simran Sachar, Joshua Cameron, Tegvaran Singh, and Hayden Pereira. In addition to its core members, Immigrant Lessons' regularly brings in guest mentors, collaborators, and interpreters for its umbrella of work, research, exploration, and collaborations. With a shared love of movement and art, Immigrant Lessons incorporates their extensive street dance/underground arts background, experimental practice, contemporary ideology, multidisciplinary skill set, and the investigation of societal norms and intersections to give voice and visibility to marginalized and oppressed communities/individuals. Immigrant Lessons aims to: heal, inspire, excite, inform, motivate, and uplift. Since its inception, Immigrant Lessons has become a household name within Western Canada. The eclectic, multifaceted nature of the Collective rings true, in the wide array of performances and collaborative work that they have been grateful to take part in. The work of Immigrant lessons has been presented at; Vancouver Street Dance Festival, Safe and Sound Music Festival, Talking Stick Festival, Vines Art Festival, Basscoast Music Festival, Shambhala Music Festival, Fatcat Children's Festival, Junofest, Vancouver International Children's Festival, Indian Summer Festival, Push Festival, Festival of Recorded Movement, Manila Fringe Festival, Nelson Mural Festival, Infringing Dance Festival. he Collective has a deep belief in the power of uplifting community through collaborative process and presentation. Ongoing collaborators include; Granville Island Society, New Works Presentation and Management, Rumble Theatre, The Massey Theatre, and The Anvil Centre. Currently, Immigrant Lessons is in creation mode on their sophomore album, titled "O R I G I N S/ How Do We Coexist?" In addition to this, the collective has now begun to explore alternative avenues in which to give back to the community through youth engagement and workshops. Immigrant Lessons are the artists in residence at the " We Are Multitudes" bipoc residency at The Massey Theatre and The Anvil Centre with mentorship and support by; Jessica Schneider, Khari McClelland, and Justine A. Chambers.
Kevin Fraser
Kevin Fraser is a Jamaican born international Dancer, Performance Artist, Actor, Event Host, Stylist, and Creative Director currently residing in Vancouver, BC. With a career in the arts that has spanned 13 years, former House of Dangerkat protegé has performed, instructed, competed, modeled in: New York City, Toronto, Montreal, Vancouver, Calgary, Helsinki, Stockholm, Mexico City, Los Angeles, Manila, and throughout China. He has performed with dance companies and collectives such as: House of Dangerkat (NYC), MixMix Dance Collective (Toronto), W&M Physical Theatre (Calgary), Project Soul (Vancouver), Illfx Entertainment (Calgary), FakeKnot ( Vancouver), Riatoss Productions ( Toronto), and Joy Titan (China). Kevin is well versed in many street dance forms including; hip hop , vogue, waacking, dancehall, and house. Kevin has also trained in "classical" dance forms as a former student of Ryerson University's BFa Performance Dance program. During his time at Ryerson University he trained in: Ballet, Jazz, Modern, African, Contemporary Ballet, Improv, Voice, Drama, and Musical Theatre. He has worked with International performance/dance artists: Mandy Moore ( La La Land), Jillian Meyers ( La La Land, Janet Jackson), Jeff Mortensen ( Descendants), Louise Hradsky ( Descendants), Kenny Ortega ( Micheal Jackson, Disney), Fatima Robinson (Aaliyah) , Charm Ledonna ( Kendrick Lamar), Jamal Sims ( Micheal Jackson), Kelly Konno (Janet Jackson), Heather Laura Gray ( Riverdale), Kaiti Dangerkat ( House of Dangerkat), and Kevin has also been featured in performances for: MTV Canada, Much Music, Universal Records, Mad Decent Records, Major Lazer, Fool's Gold Records, Ed Banger Records, New York Fashion Week, Toronto Fashion Week, to name a few. Kevin is the founder and director of the dance/art/activist collective, IMMIGRANT LESSONS, as well as the Co founder of the collective, The Coven. Kevin Is also currently a recurring cast member on the new NBC television series, Zoey's Extraordinary Playlist. As the creative director of art/activist collective, " Immigrant Lessons" and the Co founder queer art collective " The Coven", his mission and dream is to create more opportunities for marginalized and oppressed communities, giving youth platforms to foster their creativity, as well examining decolonial art practice to uplift, connect, and heal communities. His art practice, studies, and interests encompass: reimagining how different cultures and communities collide, the duality between the preservation and evolution of culture through movement, fashion, music, and discourse with cultural leaders/reconnecting to history/ and cultural immersion, investigating and dismantling Eurocentric ideas of creating work/ high art vs low art/ the body as a political vessel/the witnessing of art and work created by QT-BIPOC individuals and communities, as well as how do we reshape how we hold space for the lived experience in particular to marginalized and oppressed communities, Immigrant Lessons is currently taking part in the " We Are Multitudes" creative residency a The Massey Theatre/The Anvil Centre facilitated by Jessica Schneider, Khari McClelland, and Justine A. Chambers. Kevin Fraser would like to acknowledge Justine Chambers as primary mentor to himself and the collective for this residency process and hopefully beyond!
Simran Sachar
Simran Sachar (she/her) is a multi-disciplinary dance artist, writer, actor and second generation East Indian/Punjabi immigrant born in Canada. Finding herself through the work of decolonization. She's been dancing since she was 3 years old: Ballet, tap, jazz and modern. At 18 she began Hip hop, heels, and has started exploring other street styles such as: Waacking. With Simran's understanding in various dance forms, she is a melting pot. For Simran, the biggest responsibility of an artist in her eyes is: to honour every phase of herself with full honesty. Making Simran one of the most authentic and unique dance artists of her generation. Rather than labelling her movement to a single style, she recognizes the multiple places her foundation stems from and therefore never abandons foundation, but rearranges it. She believes there is always an underlying reason, beyond technique or training, to why people move the way they do, and that reason has to do with the lives they live, ancestry, and the openness in their hearts. She has trained and performed in multiple shows across the Philippines, New York City, Los Angeles, Vancouver, Calgary and Toronto. She is an alumni of various creative programs and collectives across North America such as the world-renowned: Gypsy Project. Her latest achievements include performing at Fringe Manila, with Immigrant Lessons as an interpreter in the latest work titled: Origins. Simran has created various commissioned full-length works. Her film entitled: "No Alarms" was chosen to be presented for "Isol-art," by Teddy Tedholm and Sara Richman. Most recently, "LUNACY" premiered at FORM ( Festival of Recorded Movement), to which the film won the Official Selection of the 2020 Audience Choice Award.
Sophia Gamboa
Sophia "SOSA" Gamboa is a Filipina born and raised artist and a first-generation immigrant residing in the unceded lands of the Musqueam, Squamish and Tseil Watuth Nations. At age 13, she moved to Vancouver, Canada where she was discovered. From there, Sophia embarked on her journey of becoming a full pledged performing artist. Sophia currently trains in a plethora of styles including Hip Hop, House, Dancehall, Popping and Afro fusion. She is well versed in freestyle dance and has won and judged battles all over the lower mainland. In 2016, Sophia became a cast member of Vancouver's first authentic Dancehall theatre production under the direction of Ketch di' Vybz' Mikhail Moris and Judy Madaraz. During that production, she was noticed by Kevin Fraser who invited her to become a member of Vancouver's leading art collective Immigrant Lessons. With Immigrant Lessons, she has reconnected herself to her Filipina roots and explored what it means to be a POC artist in western society. In addition, Sophia has traveled and performed on international stages such as RAW Artist Emerge Fashion Show in Los Angeles, California and Manila Fringe Festival. Furthermore, she has traveled to New York City to learn from the originators and pioneers of Street dance. Through her most recent work with Immigrant Lessons, Sophia explores identity and the complexities of coexisting. This has ignited her to unravel her purpose as an artist, student and leader in her own community by teaching dance to BIPOC youths for free. In her classes, she shares her experience of navigating through the arts as a woman of color. Sophia is also the founder of a non-profit organization called "The Barangay Project Society". The Barangay Project provides a safe and nurturing space for all marginalized voices to connect, heal and celebrate through the lenses of art. Sophia dreams to build a home for the street kids in Manila, Philippines where she was born and raised. She is determined to provide free education through dance and art to BIPOC youths while inspiring "love, peace, unity and having fun". Her goal is to guide, raise and nurture the next generation of young artists to be brave. She hopes to inspire youth to speak out against marginalization and staying true to themselves.
Sevrin Emnacen- Boyd
Sevrin "Sevi" Emnacen-Boyd is a half filipino b-boy, all-styles dancer, and an enthusiast of all things rhythmic and expressive. Seeking to push forward the spirit of the youthful Vancouver street dance scene, Sevi's style has become attuned to musical details and bizarre movements uncommonly explored in breaking. His keen eye for the outside and the overlooked has not only allowed him to expand on the conceptual limits of breakdancing, but also to help build bridges with dancers and artists emerging from a variety of different styles and backgrounds. He is an active member of the Vancouver street dance community, eager to play a role in building what is quickly becoming a prominent force in the local art scene. He has organized a number of youth dance battles with the City of Surrey and currently judges, performs, and teaches across Canada. Sevi is a philosophy major at the University of British Columbia, hoping to merge the creative aspects of freestyle dance with the works of late 20th century continental philosophy. Sevi is also a renowned competitor in the international breakdance scene and has traveled to many creative corners of the world including Amsterdam, Tokyo, New York City, and Manila. He is currently an active member in the Now Or Never Crew, Scndrlz, Immigrant Lessons, and Think Twice Japan.
Joshua Cameron
Josh Cameron, is a 4th generation settler born in Vancouver, BC on the unceded territories of the Semiahmoo, Katzie, Kwikwetlem, Kwantlen, Qayqat, and Tsawwassen First Nations. He began his dance journey as a bboy in 2008, able to pursue Breaking and a wide variety of street dance as a hobby and then career thanks to the Black and Latinx pioneers who created these styles. With his interdisciplinary street dance background, energetic style and keen ear for musicality, Josh has earned titles at All Style and Breaking competitions across western Canada and the United States. Josh is currently focused on pursuing more multidisciplinary stage and film work, using these as a vessel to investigate themes of identity and social justice. He is an active member of Immigrant Lessons, and under the creative direction of Kevin Fraser, the collective is developing a full-length production entitled " ORIGINS/ How Do We Coexist", set to premiere in 2021.
Hayden Pereira
Hayden "Mammon" Pereira is a indian experimental street artist and has been cultivated towards movement as his primary form of expression. Born and raised in Surrey British Columbia, Hayden has trained in the street dance styles: krump, hip hop, and b-boying, where he is primarily a battle dancer. He is affiliated with Immigrant Lessons, a professional dance collective created to promote cultural pluralism. He joined in 2020 and thus was mentored by Kevin Fraser. Through immigrant lessons, Hayden has been exposed to art in many art mediums such as dance, theatre, music, fashion, media and video production. Hayden is also the creative director of his own collective PYRE arts where they explore a plethora of art mediums and prioritize giving youth the opportunity to explore the art world. Furthermore, Hayden has taken classes from Arash Kapoor, Nicolas Ventura, Omari Newton He strives to educate himself on the culture he is a guest of and finds new ways to express himself through art. He is really focused on trying to make art that is organic to him . Hayden is a young dancer that is just looking for an education in art.
Tegvaran Sooch-Singh
Tegvaran Sooch aka "Junior Wreckage" from the Illest Illusionz crew is a first generation immigrant from India. He started dancing at the age of 16 when he joined a dance class at his school. He competed in many school level competitions with his school choreography and Break team. The amount of support he got from the dance community made him fall in love with dance.He started off by learning the foundations of Break from his peers and quickly realized that it was not for him. Since then, Teg has pursued training in KRUMP from Kofi "Wreckage" Amoah (first person to bring Krump in British Columbia) and Hip-Hop from various dancers like Natasha Gorrie and Sophia Sosa Gamboa. He has also taken classes from Baby TightEyez, Konkrete and The Flooridians. In 2019, he got a chance to be a part of the first ever BC Lions "Hype Team". This was his first time performing in front of a huge crowd as a professional dancer. This job also helped him land many other local gigs like performing for the City Of Surrey's Tree Lighting event and showcasing at Breakout presented by Surrey School District. He also got invited to the Elite Freestyle Intensive by AJ Megaman and got to train with Brelin Andreus and Hans Abelard Pierre from The Flooridains crew. Later that year, he was given the opportunity to join Immigrant Lessons led by Kevin Fraser and learn from one of the best dancers in the community. This brought him one step closer to his dream of becoming a professional dancer. After joining them, not only has he refined his dancing skills but also has learned a lot about the issues going on in the world relating to people of color. Teg uses his dance as a language to tell stories and express his emotions. He draws inspiration from the energy of people around him, super-villains and anime! He tries to combine experimental concepts and foundation in unconventional ways to create movement and dance.
Vanessa Yuen
Vanessa Lefan Yuen(樂凡)is a multidisciplinary artist born and raised in rural northern Taiwan. Inspired by taiwanese folk lore, chinese literature, japanese anime, and the natural world around her, she began exploring music, visual arts, writing, and movement as forms of storytelling and expression. She immigrated to Turtle Island in 2006, where she became fluent in english and started to write poetry, essays, short stories, and songs to express and process her experiences. Art has always been a source of healing and comfort for her, and this realization was amplified when she experienced the profound power of icaros and shamanic music during plant medicine ceremonies. After having the opportunity to share songs as prayer in medicine circles in her travels, she is inspired to create art with the intention of personal and collective healing. She further explored this path of healing modalities by completing a diploma in holistic counselling at Rhodes Wellness College. In 2019 she toured Taiwan, British Columbia, then Japan with Buckman Coe for the album "Gathering Storm" as a vocalist and flautist. After returning to BC in the fall of 2019, Vanessa performed with artists including Corrina Keeling, Tonye Aganaba, and Dey Rose. In 2020 as planned tours and live shows were postponed and cancelled, Vanessa began exploring ways to combine her various artforms in multimedia short films featuring spoken word poetry, dance, music, and visual arts. In her work "do you understand?" She uses this interdisciplinary mode of story telling to recount her connections to her Taiwanese ancestry and her immigration story. She is currently in the process of recording her first album, and also working with the artist collective Immigrant Lessons directed by Kevin Fraser.
To note:  Please arrive no earlier than 30 minutes before the performance. At this time, we ask that masks be worn inside the Firehall. Patrons may take their masks off while in theirs seats, or outside in the courtyard at their discretion. Door sales will be available if the performance is not sold out.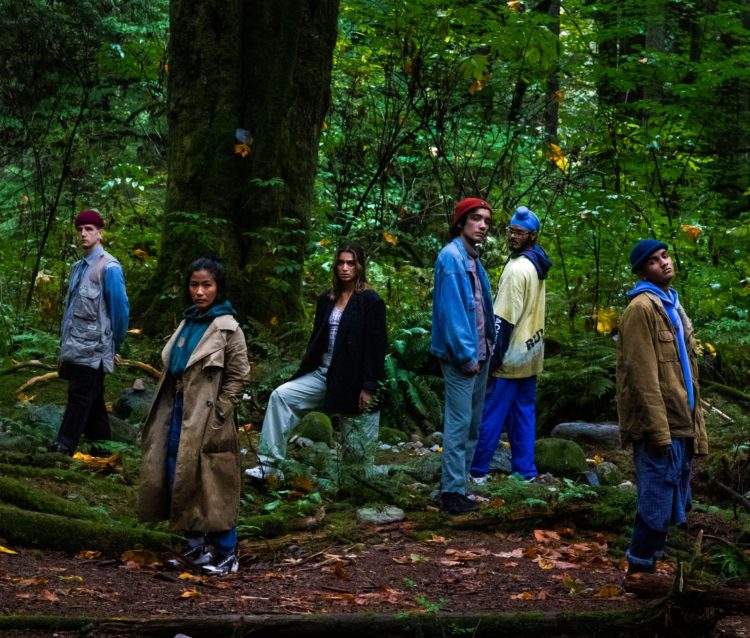 PAM
CAMP
World Premiere
In our first year of making work, we are taking a tour through our fantasies. CAMP just finished our inaugural show, WANTED, and now we are exploring something different. The piece is called PAM, it's pure movement, and it's moving away from narrative into conceptual. We are taking this opportunity as a collective to work on merging our movements into a synchronous unity, and explore a new facet of our convergent relationship as a company.
Performers:
Brenna Metzmeier
Brenna Metzmeier, is a dance artist, choreographer and teacher. She is originally from Terrace BC, but she completed her formal training at the Victoria Academy of Ballet, receiving a diploma in 2016. She has had the opportunity to work with Ballet Etoile, Arts Umbrella's Performance Research Project, Sawdust Collective, Pi Theatre, Inverso Productions, and Vision Impure, Brenna received a residency at the Banff Centre for Arts and Creativity in 2017; where she performed 'Noetic' Choreographed by Sidi Larbi Cherkaoui and Göteborgs Opearans Danskompani. Brenna is also a founding member of CAMP and plays the role of dancer and choreographer within the collective. Since January 2020 CAMP has been selected for multiple residencies including, The Dance Centre's 12 Minutes Max, Mascall Dance and Dance Victoria.
Eowynn Enquist
Eowynn Enquist (She/her) is a dance maker/performer who lives and works on the traditional, ancestral and unceded territories of the xwməθkwəy̓əm, Skwxwú7mesh, and Səl̓ílwətaʔ/Selilwitulh nations. Eowynn's formative dance training began at Simon Fraser University (2014 – 2018), where she was awarded the Amir Algahnand Award in Contemporary Arts. As a dance artist in Vancouver, Eowynn has the opportunity to work with dance companies and independent choreographers such as: Wen Wei Dance, Action at a Distance, Vision Impure Compagnie, Mascall Dance, Kinesis Dance Somatheatro, Mahaila Paterson O'Brien, Anya Saugstad, and Kelly Hobson (Victoria, BC). Eowynn has worked on projects with: Justine A.Chambers, Susan Elliott, Raïna Von Waldenburg, Idan Cohen, Out Innerspace Dance Theatre, Rachel Meyers, the response., Body Narratives Collective, and Angel Mousseau (Victoria, BC). Eowynn is a founding member of CAMP and plays the role of a dancer and choreographer within the collective.
Isak Enquist
Isak Enquist is a dance artist living on unceded Səl̓ílwətaʔ/Selilwitulh, Skwxwú7mesh, and xʷməθkwəy̓əm Nations. Raised in the Kootenays/Ktunaxa of Canada, Isak began formal training in Shotokan Karate. He began dance education at Simon Fraser University before enrolling with the Modus Operandi Contemporary Training Program. As an emerging dance artist, Isak has performed with Out Innerspace Dance Theatre, Compagnie Vision Impure, the response., Mascall Dance, Shay Kuebler Radical System Art. He is also a founding member of CAMP, contributing as a dancer and choreographer on various projects. Touring with these companies have included performances across Canada, USA, Europe and Israel.
Sarah Formosa
Born and raised in White Rock, BC, Sarah Formosa (she/her) trained at the Alonzo King LINES Ballet Training where she graduated in 2016. As an independent artist, Sarah has had the opportunity to work with Company Joe Ink, Joshua Beamish/The Vancouver Opera, the response. Dance Company, TWObigsteps Collective, Vision Impure, WAREhaus Dance Collective, FakeKnot, Raven Spirit Dance Company, Wen Wei Dance, Action at a Distance and many more. Sarah is a founding member of CAMP and plays the role of a dancer and choreographer within the collective. Her individual work as a choreographer has been presented by Small Stage and OFF Dancing on the Edge Festival. Sarah currently performs with The Smoke Show by Jen Oleksiuk and some of her TV and Film Credits include Disney, Netflix, Nickelodeon, LifeTime and Freeform.
Ted Littlemore
Ted Littlemore is a dance artist, musician, and drag performer. After completing his contemporary dance training with Modus Operandi, Ted has collaborated and performed with Action at a Distance, FakeKnot, Kate Franklin, Kinesis Dance Somatheatro, Ne.Sans Dance Company, Joshua Beamish and the Vancouver Opera, Tara Cheyenne Performance, and Compagnie Vision Impure. He is also developing his own work, both as a founding member and choreographer of CAMP, and fusing contemporary dance with his work in drag. Ted started drag in 2013 to explore the intersection of his musical, theatrical, and dance backgrounds. Performing as Mila Dramatic, he (/she!) took the title of Vancouver's Next Drag Superstar in 2016, and now performs frequently at local drag venues. Ted also studies and works as a classical and jazz pianist.
Composer: Isak Enquist/Ted Littlemore
Facebook: facebook.com/campdancecollective
Instagram: instagram.com/campisinsession
To note:  Please arrive no earlier than 30 minutes before the performance. At this time, we ask that masks be worn inside the Firehall. Patrons may take their masks off while in theirs seats, or outside in the courtyard at their discretion. Door sales will be available if the performance is not sold out.