Programs
Kirsten Wicklund & Peter Smida
Proof | Kirsten Wicklund
Initial Response and Reconfiguration | Peter Smida
Firehall Arts Centre - Theatre
Proof
Kirsten Wicklund
World Premiere
A new solo work created and performed by Kirsten Wicklund.
What if I let go
And fell face first into the earth
Would it suck me into it's molten lava core?
Drown me in it's hilarious heat…
Thicken me with I told you so's…
Mocking my every wish, 
If all I am is bones that swim,
In skin with scars…
Busy mind, scorching heart, stinging eyes…
Will this be? 
My forever proof.
Kirsten Wicklund
Kirsten (she/her) is dance artist, creator and movement educator who is privileged to live & work on the unceded territories of the Coast Salish Peoples: Sḵwxw̱ ú7mesh (Squamish), Stó:lō and Səlí̓lwətaʔ/Selilwitulh (Tsleil-Waututh) and xʷməθkʷəy̓əm (Musqueam) Nations. Kirsten has been a full time artist at Ballet BC since 2014 where she has danced and performed internationally in works by Lesley Telford, Medhi Walerski, William Forsythe, Emmanuel Gat, Wen Wei Wang, Cayetano Soto, Adi Salant, Aszure Barton, Company 605, Johan Inger, Serge Bennathan, Jorma Elo, Jacopo Godani, Walter Mateini, Emily Molnar, Crystal Pite, Ohad Naharin, Sharon Eyal, and others. As an independent choreographer, she has created works for Dances for a Small Stage, the Dance Deck Series, Arts Umbrella, Goh Ballet, Lamon Dance, Dancing on the Edge Festival, The UBC Choir, Move: The Company, Ballet BC's Choreographic Lab and Ballet Kelowna. Kirsten's recent work "Overcast" was one of only 20 works selected worldwide as part of the International Choreography Competition Hannover which was presented digitally in June 2021. In August 2021, Kirsten will be relocating to Antwerp, Belgium to join the Opera Ballet Vlaanderen as a dancer for their 2021/22 Season. She is thrilled to be performing in Vancouver as part of this years Dancing on the Edge Festival!
Special Thanks To: 
Out Innerspace Dance Theatre (David Raymond & TIffany Tregarthen)
The Dance Centre
Joshua Beamish
Livona Ellis
Peter Smida
Cindi Wicklund
Music: Kentaro Minoura, Ben Fehr & Liam Cutler, Chihei Hatakeyama, Angie McMahon
Website: www.kirstenwicklund.com
Facebook: www.facebook.com/kirstenwicklund
Instagram: www.instagram.com/kirstenwicklund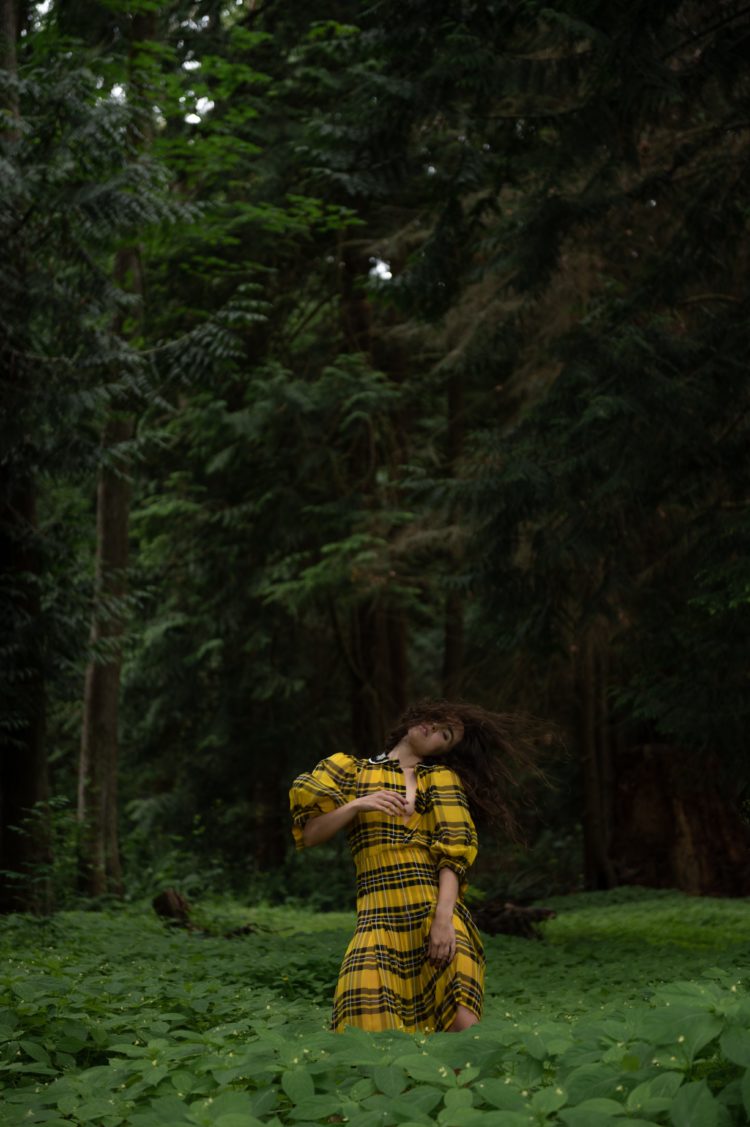 Initial Response and Reconfiguration
Peter Smida
A duet for one dancer and one musician which explores breaking open set choreography and musical composition  – using it as a frame for mutual response and influence.
Choreographer | Creator: Peter Smida
Composer: Kimia Koochakzadeh-Yazdi
Performers: Kiana Jung, Kimia
Koochakzadeh-Yazdi
Kiana Jung
Kiana Jung was born and raised in Vancouver, BC, where she started her dance training at Arts
Umbrella from the age of 9. She went on to complete the Professional and Graduate Program
under the direction of Artemis Gordon. While studying at Arts Umbrella, Kiana was invited
to perform in Ballet BC's Romeo + Juliet in their 17/18 season, as well as the ITs Festival in
Amsterdam in 2017. During her studies she has performed works by Amos Ben-Tal, Mats Ek, Johan Inger, Emily Molnar and Crystal Pite. She has also had the opportunity to work with dance artists such as Eric Beauchesne, Yvan Dubreuil, Bret Easterling, Rafael Sady, Cayetano Soto, Lesley Telford, and Tom Weinberger, among others. Kiana has furthered her training at summer intensives, including the AU international Summer Intensive, San Francisco Conservatory of Dance, and a dance residency at the Banff Centre for arts and creativity. Kiana joined Ballet BC in 2019 as an Emerging Artist where she has performed works by Aszure Barton, Sharon Eyal, and Medhi Walerski, as well as perform in BC Culture Days 2020. Kiana is thrilled to return as a full-time company member for the 21/22 season.
Kima Koochakzadeh-Yazdi
Kimia Koochakzadeh-Yazdi (b. 1997 Tehran, Iran) is a Vancouver-based composer-performer. She writes for hybrid instrumental and electronic ensembles and performs electroacoustic music. Kimia explores the unfamiliar familiar while constantly being driven by the mechanism of the human psyche and exploring ways to manipulate it. Her work has been featured in festivals such as The New York City Electroacoustic Music Festival (Virtual), Yarn/Wire Institute (Virtual), Ensemble Evolution (Virtual), New Music on the Point (Vermont, USA), wasteLAnd Summer Academy 2019 (Los Angeles, USA), EQ: Evolution of the String Quartet (Banff, Canada), Modulus Festival (Vancouver, Canada), SALT New Music Festival (Victoria, Canada). Being a cross-disciplinary artist, she has actively collaborated on projects evolving around dance, film, and theatre. Her recent collaborations include live electronic music for a dance performance by Ballet BC's artists in residence, Peter Smida; Original score for Anthony Lee's short film; And, live-performed music for Tomoyo Yamada's dance film. Kimia has been presented by organizations such as Iranian Female Composer Association, Music on Main, Western Front, Vancouver New Music, and Media Arts Committee. She has had publicity in papers such as The New York Times, Georgia Straight, MusicWorks Magazine, Vancouver Sun, and Sequenza 21. Koochakzadeh-Yazdi has recently graduated from Simon Fraser University's interdisciplinary School for the Contemporary Arts with a Bachelors of Fine Arts in Music Composition and having studied with Sabrina Schroeder, Owen Underhill and Mauricio Pauly. Kimia will be starting her DMA in composition at Stanford University in Fall 2021.
Instagram: @mocookiesmomilk
To note:  Please arrive no earlier than 30 minutes before the performance. At this time, we ask that masks be worn inside the Firehall. Patrons may take their masks off while in theirs seats, or outside in the courtyard at their discretion. Door sales will be available if the performance is not sold out.