Programs
NGS ("Native Girl Syndrome")
Lara Kramer Danse | Lara Kramer
Firehall Arts Centre
PERFORMANCE DATES
| | | | |
| --- | --- | --- | --- |
| Mon, July 7, 2014 | 8:00pm | Firehall Arts Centre | Buy Tickets |
| Mon, July 7, 2014 | 7:00pm - FREE pre-show talk | Firehall Arts Centre | Buy Tickets |
| Wed, July 9, 2014 | 8:00pm | Firehall Arts Centre | Buy Tickets |
"Shattering" – The Dance Current
"Kramer is a talent to watch. She wears her heart on her sleeve, which translates into dance theatre that is as vulnerable as it is emotional." The Globe and Mail – Paula Citron
B.C. Premiere -Lara Kramer's new creation NGS ("Native Girl Syndrome") dives into street culture, as enacted in a raw theatrical performance by Angie Cheng and Karina Iraola. Their drug-filled, disassociated personas take the audience on a dynamic journey of addiction, loss, and alienation.
NGS ("Native Girl Syndrome") is inspired by the experience of Kramer's own grandmother, having migrated from a remote First Nations community into an unfamiliar urban environment as a young woman. The piece explores the effects of cultural disorientation, assimilation, and the self-destructive behavior she endured. It creates a voice and draws awareness to larger issues surrounding the marginalization and victimization of Indigenous women.
Duration: 60 minutes
FREE Pre-show Talk
Connecting the Past & Present: where traditional and contemporary dance meet
Monday July 7 at 7pm – A discussion featuring Michelle Olson (Raven Spirit Dance), Starr Muranko, Olivia C. Davies and a representative from Lara Kramer Danse.
Outside Eyes: Shawn Caldwell | Creative process member: Cris Derksen & Patricia Iraola | Rehearsal Director: Maria Simone | Mentor: David Pressault | Technical Director & Lighting Design: Paul Chambers | Music by: Robert Gordon, The Dirtbombs, Link Wray & The Guess Who | Costumes & Set-Design: Lara Kramer
Lara Kramer is the artistic director and choreographer of Lara Kramer Danse, based in Montreal. She received her BFA in Contemporary Dance at Concordia University, Montreal, in 2008. Kramer is a Frist Nation dancer and choreographer whose work is intimately linked to memory and her Aboriginal roots. Working with strong visuals and narrative, Kramer's work pushes the strength and fragility of the human spirit. Her work is political and potent, often examining political issues surrounding Canada and First Nations Peoples. Kramer has been recognized as a Human Rights Advocate through the Montreal Holocaust Memorial Centre. Her work has been invited to festivals in Montreal, Ottawa, Toronto, Regina, Edmonton and Vancouver.
Photo: Marc J Chalifoux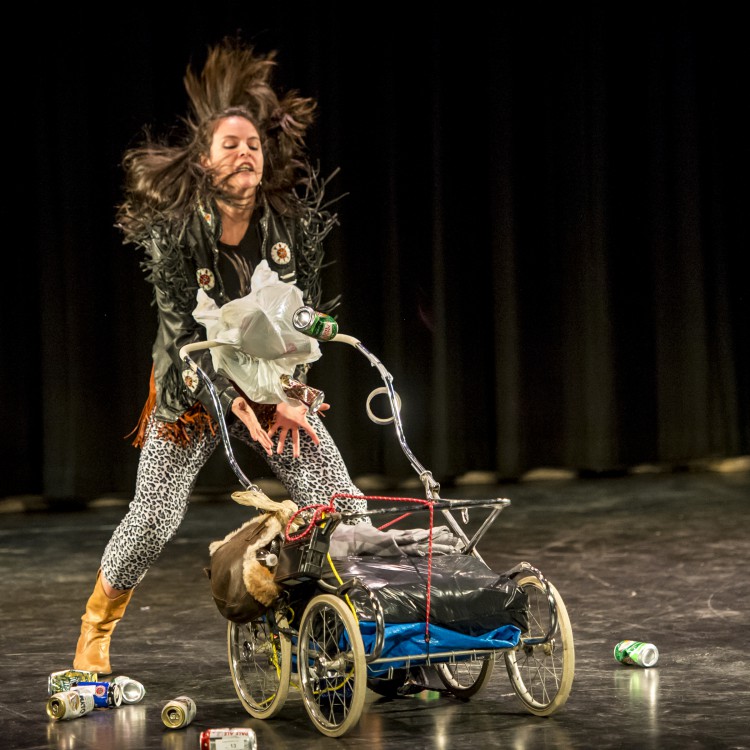 NGS ("Native Girl Syndrome") from lara kramer on Vimeo.