Programs
OURO Collective & Generous Mess
by means of each other | Generous Mess
Fire06 | OURO Collective
Firehall Arts Centre - Courtyard Stage
by means of each other
Generous Mess
British Columbia Premiere of a Work-In-Progress
Sarah & Aiden take slivers, chunks, and total exaggerations from their experience as partners to make a duet where they must continually organize around and through one another.
A COVID Commission work.
Choreographers | Performers: Sarah Hutton & Aiden Cass
Dramaturg: Raina von Waldenburg
Mentors: David Raymond & Tiffany Tregarthen
Thank you for the generous support of: Tia Ashley Kushniruk, Kate Franklin, Allie Shiff, Ted Littlemore, Stephen White, Dayna Nielsen, Juolin Lee, James-Amzin Nahirnick, Iris Stewart-Bosch, Alder Sherwood, Mirna Zagar, and New Works.
This project is supported by:
Dancing On The Edge Covid Commissions
Out Innerspace Dance Theatre
plastic orchid factory & Left of Main
North Shore Academy of Dance
Dance Victoria
The Dance Centre
Music Credits:
Stayin' Alive – Bee Gees
I Only Have Eyes For You – WriMen by Harry Warren & Al Dubin, Performed by The Flamingos
September Song – WriMen by Kurt Wiell & Walter Huston, Performed by Sarah Vaughan
Stress – Jus:ce
Milk & Honey #1 – Arcade Fire & Owen Pallet
All My Friends – LCD Soundsystem
Aiden Cass
Born in North Vancouver B.C., Aiden Cass first channeled his high energy into a Hip Hop class at age 10 and quickly discovered a strong passion for movement and performance. After graduating from North Shore Academy of Dance's Half Day Program, Aiden joined Modus Operandi (MO) in 2015. Since his time training with MO, Aiden has worked with Emmalena Fredriksson; David Raymond; Tiffany Tregarthen; and Shay Kuebler, as well as many other artists in the Vancouver community.
Sarah Hutton
Sarah Hutton was raised in Hanna, AB. She moved to Vancouver in 2013 and has since trained with the Source Dance Company, EDAM, and Modus Operandi (MO), graduating from MO in 2020. She has performed for creators/producers Paras Terezakis; Shay Kuebler; Julie-anne Saroyan; and Heather Dotto. Sarah recently completed Peggy Baker Dance Project's Emerging Artist Program.
Sarah and Aiden's first collaboration as co-choreographers began as they finished their formal dance training at Modus Operandi; they had an intuitive chemistry that would create a strong base from which to create. From that moment, the two began making plans to continue their collaboration. Their shared love of highly physical partnering, character driven narrative, and comedic devices are the foundation for their company, Generous Mess. Sarah and Aiden are privileged to live and dance as guests on the traditional unceded territory of the xwməθkwəyə̓m (Musqueam), Sḵwxw̱ú7mesh (Squamish), Səlílwətaʔ/ Selilwitulh (Tsleil-Waututh) Nations.
Facebook: @generousmess
https://www.facebook.com/generousmess
Instagram: @generous_mess
To note:  Please arrive no earlier than 30 minutes before the performance. At this time, we ask that masks be worn inside the Firehall. Patrons may take their masks off while in theirs seats, or outside in the courtyard at their discretion. Door sales will be available if the performance is not sold out.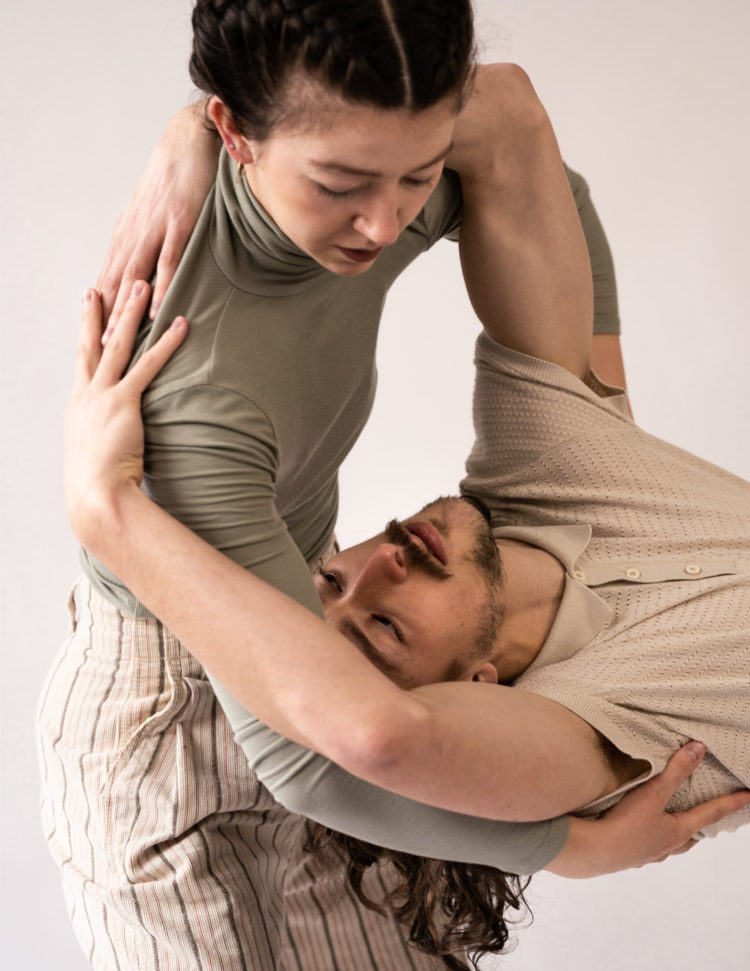 Fire06
OURO Collective
British Columbia Premiere of a Work-in-Progress
OURO Collective presents excerpts of FIRE 06, a work-in-progress that takes the Firehall Arts Centre's location and its surrounding neighbourhoods as a site for historical exploration. This project is part of OURO's larger inquiry into the effects of Vancouver's shifting urban landscape and the places that are meaningful to the various members of the collective. Informed by research into Indigenous and colonial history through consultation, interviews, and archival material, OURO Collective showcases a quintet of dancers that fuse hip-hop, waacking, breaking, popping, and contemporary dance. By discovering past iterations of a building or a neighbourhood, the collective hopes to work against cultural amnesia.
A COVID Commission work.
Rehearsal Director: Maiko Miyauchi
Dramaturge: Amber Funk Barton
Performers:
Ash Cornette
Born in Washington D.C, and raised in Mannheim, Germany, Complex has always been drawn to jazz music. At an early age, Complex picked up percussion, saxophone, and piano. His dance reflects his musical background, and his movement challenges and highlights acoustic patterns and rhythm. Starting in 1998, Complex is a long time artist in the B-boy world, and has been placing the Pacific North West on the map ever since. His detailed footwork, flow, and strong foundation in breaking has allowed him to share his craft across North America, Asia, and Europe. He is a member of Dance Broomz and Hoodz, and is both a decorated battler, and a strong performer. He has won several titles such as Massive Monkees Footwork Champion, Vancouver Street Dance Festival Breaking Champion, and has performed for many events and companies such as Takashi Murakami Birthday Bash, Lululemon, L'Oréal, and Leica Geosystems.
Cristina Bucci
Cristina Bucci creates and produces new dance works on the unceded territories of the xwməθkwəy̓əm (Musqueam), Skwxwú7mesh (Squamish) and Səl̓ílwətaʔ/Selilwitulh (Tsleil-Waututh) Nations. As a dance artist she has been given many opportunities to be a part of numerous exciting projects with a career that has taken her around the globe. Some highlights include the International Dance Seminar in Brazil, choreography for Yarita Yu Ballet Company in Tokyo, Dancing on the Edge, touring Japan with OURO Collective, Vancouver International Dance Festival, CypherFest International Dance Festival, Seattle International Dance Festival, Dance in Vancouver, and Avant Garde Dance (UK). Her past twenty years of experience in the arts as a dancer, choreographer, collective member, and dance educator has seen her bring artistic excellence to all of her projects, as she continues to bring street dance-based work to the forefront of the arts in BC, Canada and beyond. She acted as assistant director of training company The SOULdiers for seven years and part of various outreach dance programs, such as Kidsafe, Share Dance, and The Power of Dance (The Dance Centre). Cristina is also a registered holistic nutritionist and presents her "Nutrition for Dancers" seminars to dancers of all ages and works with clients one on one. Cristina is currently acting as the Managing/Co-Artistic Director of OURO Collective.
Eric Cheung
Born and raised in Calgary Alberta, Eric Cheung has been specializing in the style of popping for 6 years. Originally self-taught, he has now learned from the Electric Boogaloos and many of the current innovators of the dance. Eric has also travelled and competed in battles across Canada and overseas to countries like Japan for Old School Night Vol.19 and Amsterdam for Summer Dance Forever 2016. He recently won at Vancouver Street Dance Festival 2017 in the popping category. As an artist, Eric strives to always show the most authentic version of himself whenever he performs. He has also become known for his ability to perform under pressure and his willingness to take risks in battle competitions. Eric is one of the founding members of Unknown Elements, the only popping crew in Calgary with the mission to promote individuality in dance and to cultivate the local popping scene. He is currently involved in the creation process of their new work entitled SOTTO51 and 7y98D. As a solo performer, Eric premiered his solo work entitled "iye", and is iterating iye as a web-based interactive experience entitled "iyeism". Eric has also developed numerous short films such as I(n)finite, Wave, and E_GO.
Rina Pellerin
Rina's versatility and artistry has allowed her to learn, perform, and compete across North America and Asia. She began classical ballet at the age of 7 and immersed herself in street dance culture during her teen years. She has received several scholarships and awards throughout her training, granting her the opportunity to travel and study under pioneers of street dance and its founders. Given her choreographic and freestyle background, she has performed with various groups of different genres and has worked on commercial projects with companies such as Lululemon, Telus, Goldwell, Vancouver Art Gallery, Fader Magazine, Disney, NBC, CW Network, and Samsung. Highlighted choreography credits include Dance Allsorts, New Works Season Launch, Dancing on the Edge, Cypher Fest, Bumbershoot, Shambhala Music Festival, Dance in Vancouver, Seattle International Dance Festival, and Block Party. On top of corporate and commercial work, Rina has been an active member of the Vancouver street dance scene and has made it her priority to grow the Waacking community.
Shana Wolfe
Shana Wolfe is a dance artist currently based in Vancouver, Canada on the unceded territories of the xʷməθkwəy̓əm (Musqueam), Skwxwú7mesh (Squamish), and Səl̓ílwətaʔ/Selilwitulh (Tsleil-Waututh) Nations. She completed her dance studies through the Arts Umbrella Graduate Program under Artemis Gordon and received her dance diploma in 2017. She has toured internationally to the Netherlands, performing in the ITS Festival and Netherlands Dans Theater's Shortcuts XL'17, as well as performed "BILL" by Sharon Eyal with Ballet BC throughout England and in Germany for the Movimentos – Autostadt festival in 2018. She has performed new creations by local artists such as Wen Wei Wang, Lesley Telford and Emily Molnar, and performed repertoire by Azure Barton, Crystal Pite, Medhi Walerski, and more. She attended Springboard Danse Montreal in 2018 where she performed works by Margie Gillis (The Legacy Project), and Michael Getman. Also in 2018, Shana worked with Cindy Mochizuki on an experimental dance film with 10 Japanese-Canadian women, and in 2019 with OURO collective and 01magazine for a dance on screen project. Shana created her first piece titled "轴 軸/Axis", collaborating with friend and poet Rosemary Xinhe Hu. The piece is about "home", explored in Japanese, Mandarin, and English, and is a brief telling of our bodies' histories on this land and the lands we long for. The piece will be shown for Vines Art Festival 2020. Shana is also a part of Made In BC's Des Arts Dehors/Dance Outside program for their 2020/2021 season.
Website: www.ourocollective.com
Facebook: www.facebook.com/ourocollective
Instagram: @ourocollective
Twitter: www.twitter.com/ourocollective
Other(s): https://open.spotify.com/user/ourodance
To note:  Please arrive no earlier than 30 minutes before the performance. At this time, we ask that masks be worn inside the Firehall. Patrons may take their masks off while in theirs seats, or outside in the courtyard at their discretion. Door sales will be available if the performance is not sold out.