Programs
Raven Spirit Dance & Meredith Kalaman
Confluence | Raven Spirit Dance
the sea of my tomorrows | Meredith Kalaman
Firehall Arts Centre - Theatre
Confluence (Excerpt)
Raven Spirit Dance
Live Work
Confluence is the gathering of Indigenous women in the rehearsal room and through the creative process we find meaningful connections to build scaffolding in which to hang our thoughts, desires and impulses as Indigenous dance artists. We explore water as the heart of being human. Being the source of life, it shapes and carves through our landscapes, creating our rhythm and stories.
A COVID Commission work.
Co-created and performed by: Michelle Olson, Starr Muranko, Jeanette Kotowich, Tasha Faye Evans and Tin Gamboa
Past collaborators: Margaret Grenier, Carlos Rivera, Yvette Nolan, Kristy Janvier and Emily Solstice
Music:
Original composition by Scott Maynard
Maxida Marak – Yoik
Lighting Designer: Kimberly Plough
Rehearsal director: Salome Nieto
Stage Manager: Elliot Roberts
Photo Credit:  Erik Zennström
Michelle Olson
Michelle Olson is a member of the Tr'ondëk Hwëch'in First Nation and the Artistic Director of Raven Spirit Dance. She studied dance and performance at the University of New Mexico, the Aboriginal Arts Program at the Banff Centre and was an Ensemble Member of Full Circle First Nations Performance. Michelle works in areas of dance, theatre and opera as a choreographer, performer and movement coach and her work has been seen on stages across Canada. She was the recipient of the inaugural Vancouver International Dance Festival Choreographic Award. She graduated as a Certified Movement Analyst from Laban/Bartenieff and Somatic Studies Canada and is currently teaching at Langara's Studio 58.
Starr Muranko
Starr Muranko is a dancer, choreographer and Mother and has been an Artistic Associate with Raven Spirit since 2009. As a choreographer she is most interested in the stories that we carry within our bodies and Ancestral connections to land that transcend time and space. Her choreographic work has been shared both locally and nationally including presentations at the Dance Centre, Talking Stick Festival, Coastal Dance Festival, Dancing on the Edge, Weesageechak Begins to Dance, Impact Festival and InFringing Dance Festival.
Tasha Faye Evans
Tasha Faye Evans is a dance and theatre artist from a legacy of Coast Salish, Welsh, and European Jewish grandparents. Her career continues to be a collection of collaborations and performances with national and international Indigenous artists, including Starr Muranko's Spine of the Mother, Raven Spirit Dance's Salmon Girl and Confluence, and her new dance solo in collaboration with carver Ocean Hyland called, Cedar Woman. Tasha also focuses on redress and Coast Salish cultural resurgence, particularly in Port Moody where she is raising her two children.
Tin Gamboa
Tin Gamboa is a Filipina dance artist who resides as an uninvited guest on the unceded territories of the Musqueam, Squamish, and Tseil-Waututh First Nations. As a member of the diaspora who was born and raised in Manila, Philippines, till the age of 18, she is interested in understanding the body's positionality and relationality to other beings within time and space. Intrigued by Yolanda Covington-Ward's prompt to begin with the body as the centre, conduit, and catalyst for reflection, Tin delves into mundane gestures and stories to explore the realm of ethnographic choreography. She appreciates safe spaces for reflection on ideas and patterns imprinted on the body, in relation to larger societal frameworks. Tin is currently supplementing embodied understanding with theory and research as a Master of Fine Arts Candidate at SFU, taking courses that fall within Contemporary Arts, Indigenous Studies, Urban Studies, and Anthropology.
Jeanette Kotowich
I am a multi-disciplinary iskwêw, independent dance artist, creator, choreographer and Auntie Culture enthusiast of Nêhiyaw Métis and mixed settler ancestry. Originally from Treaty 4 territory Saskatchewan, I create work that reflects Nêhiyaw/Métis cosmology within the context of contemporary dance, Indigenous performance, and Indigenous futurism. Fusing interdisciplinary collaboration, de-colonial practices and embodied research methodologies; my work references protocol, ritual, relationship to the natural/spirit world and Ancestral knowledge. My practice is intergenerational and vocational; it's a living and lived experience. I reside as a guest on the Ancestral and unceded Sḵwx̱wú7mesh (Squamish) əl̓ilw̓ətaʔɬ/ (Tsleil-Waututh) and xʷməθkʷəy̓əm (Musqueam) territories, colonially known as Vancouver. More: movementhealing.ca/
Website: https://ravenspiritdance.com/
Facebook: https://www.facebook.com/ravenspiritdance
Instagram: https://www.instagram.com/ravenspiritdance/
Twitter: https://twitter.com/rsdancecompany
To note:  Please arrive no earlier than 30 minutes before the performance. At this time, we ask that masks be worn inside the Firehall. Patrons may take their masks off while in theirs seats, or outside in the courtyard at their discretion. Door sales will be available if the performance is not sold out.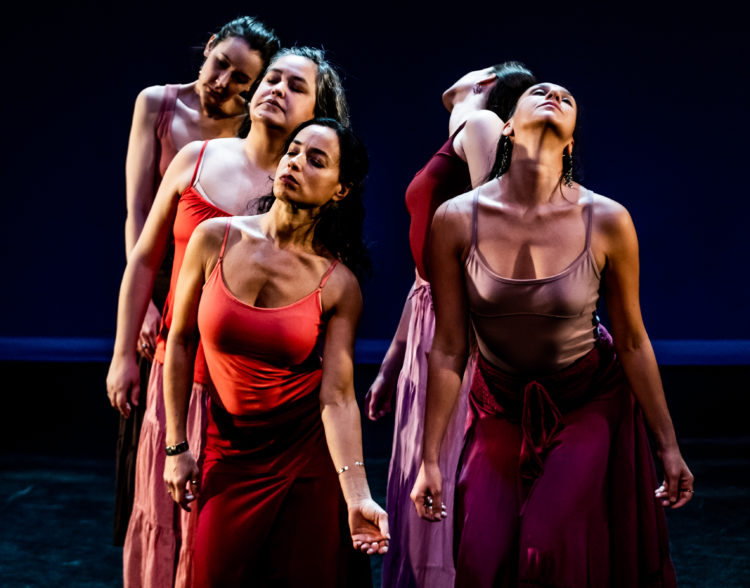 the sea of my tomorrows
Meredith Kalaman
Screening of Dance Film
World Premiere
The sea of my tomorrows is created with dancers from the Pacific and Atlantic Coast, taking its inspiration from these distant seascapes coming together to narrate an onerous journey across the water. This piece is ignited by the body's capacity to hold and translate memories through water and the emotional and psychological role water plays in our lives.
A COVID Commission work.
Choreographer | Creator: Meredith Kalaman
Performers:
Akeisha de Baat + Megan Morrison (Van)
Amelia McGrath, Sara Coffin + Meredith Kalaman (Nova Scotia)
Videographers: Daniel Duque (Van) + Zeus (NS)
Film Editor: Daniel Duque
Music: Erokia
Creative Editor + Sound: Daniel Duque
Instagram: @merekaldance
To note:  Please arrive no earlier than 30 minutes before the performance. At this time, we ask that masks be worn inside the Firehall. Patrons may take their masks off while in theirs seats, or outside in the courtyard at their discretion. Door sales will be available if the performance is not sold out.