Programs
Vanessa Goodman & Rob Kitsos
Tuning | Vanessa Goodman
The Threshing Floor | Rob Kitsos
Firehall Arts Centre - Theatre
Tuning
Vanessa Goodman
Live Work
Excerpt of a full-length work set to premiere in Feb 2022
"Tuning" is a new duet commissioned by Alexis Fletcher created and directed by Vanessa Goodman featuring dance artists Alexis Fletcher and Ted Littlemore. This new work focuses on how we tune to one another. In "Tuning" the performers create a live sonic and physical atmosphere using their voices to amplify the conversations of the body. "Tuning" was created with generous support from The Canada Council for the Arts.
Choreographer | Creator Name: Vanessa Goodman in collaboration with the performing artists.
Performing Artists: Ted Littlemore and Alexis Fletcher
Music: Vanessa Goodman and the performing artists. Lyrics referenced in the work written by Ben E. King, Jerry Leiber and Mike Stoller.
Lighting Designer: James Proudfoot
Ted Littlemore
Ted Littlemore is a Musician, Dance Artist, and one of Vancouver's most celebrated Drag Performers. After graduating from McGill University with a B.A. in Psychology, and a double minor in Music Theory and Economics, Ted shifted his studies to the field of dance, studying in Vancouver, B.C., New York City, Shanghai, London, and Berlin. He graduated from Modus Operandi Contemporary Dance Training Program in June 2018, and has continued his training in various intensives and workshops, including Arts Umbrella, Gaga Intensives, and Springboard Danse Montréal.
Since graduating, Ted has collaborated and performed with Action at a Distance, Compagnie Vision Impure, FakeKnot, Joshua Beamish/MOVE THE COMPANY, Kate Franklin, Kinesis Dance Somatheatro, Ne.Sans Dance Company, Tara Cheyenne Performance, and the Vancouver Opera. Ted is also a founding member, choreographer, and dancer in the collective CAMP.
In addition to his work with other companies, Ted also teaches and sets work regularly across the Lower Mainland, often fusing contemporary dance with his accompanying career in drag. Ted started drag in 2013 to explore the intersection of his musical, theatrical, and dance backgrounds. Performing as Mila Dramatic, he (/she!) took the title of Vancouver's Next Drag Superstar in 2016, and now performs frequently at local drag venues. Through drag, he has also begun to hone his skills as a stylist, with a particular interest in reimagining found materials to create avant-garde, conceptual looks. You can follow Ted/Mila at @MilaDramatic on Instagram, or at tedlittlemore.com
Alexis Fletcher
A dance artist, creator, and producer, I have danced with Ballet BC for 14 years under the directorship of both John Allen and Emily Molnar. Now independent, I hold the position of Artist in Residence. My creations have been supported by Dancing on the Edge, InFrinGing Festival, New Works, Vernon Performing Arts Centre, The Gordon Smith Foundation, BC Arts Council and Canada Council for the Arts. In 2019, I was a BC Artist in Residence at Chutzpah! Festival, and in 2019 and 2020 I was in residence at Dance Victoria.
With Ballet BC I  was part of the core group of dancers, led by Emily Molnar, who built the internationally recognized, creation-based company it is today, sharing our work on world stages such as Sadler's Wells, Jacob's Pillow, Canada's National Arts Centre, The Joyce Theatre NY, BAM, Theatre Grec, Movimentos Festival, among many others.
As a producer, I have co-created a multidisciplinary performance space and series with my husband, Sylvain Senez, at our home in Vancouver. On our  outdoor stage we curate and present annual performance events, entitled The Dance Deck. This series has been running since 2015. We also host art film nights inside our house as a way of supporting independent filmmakers.
As a dance artist I am fascinated by how exploring the movement potential of the human body becomes a way of accessing the inner landscapes of our spirits and psyches, and this is the primary motivation behind my own physical practice and choreographic interests. I believe that dance is a unique vehicle with which to share, research, and discuss our humanity.
I acknowledge, with gratitude, my privilege to be working and creating on the unceded territories of the Coast Salish Peoples: Sḵwx̱wú7mesh (Squamish), Stó:lō and Səl̓ílwətaʔ/Selilwitulh (Tsleil-Waututh) and xʷməθkʷəy̓əm (Musqueam) Nations.
Vanessa Goodman
Vanessa Goodman respectfully acknowledges that she lives, works and creates on the ancestral and unceded territories of the Coast Salish peoples, including the Sḵwx̱wú7mesh (Squamish), Stó:lō, Səl̓ílwətaʔ/Selilwitulh (Tsleil-Waututh) and xʷməθkʷəy̓əm (Musqueam) Nations. She holds a BFA from Simon Fraser University and is the artistic director of Action at a Distance Dance Society. Vanessa is attracted to art that has a weight and meaning beyond the purely aesthetic and uses her choreography as an opportunity to explore the human condition. She has received several awards and honours, including The Iris Garland Emerging Choreographer Award (2013); The Yulanda M. Faris Scholarship (2017/18); The Chrystal Dance Prize (2019); The Schultz Endowment from Banff Centre for Arts and Creativity (2019); and the "Space to Fail" program (2019/20) in New Zealand, Australia and Vancouver.
Vanessa's work has been presented in Vancouver by DanceHouse, SFU Woodwards, Music on Main, The Firehall Arts Centre, The Dance Centre, The Chutzpah! Festival and The Shadbolt Centre for the Arts. Presentations further afield include the Fluid Festival (Calgary), Kinetic Studio (Halifax), The Dance Made in Canada Festival (Toronto), On the Boards (Seattle), Risk/Reward Festival (Portland), Offset Dance Fest (Brooklyn), Switch Lab (Bucharest),  L1 Festival (Budapest), Estorgenuis (New York), BioFriction/ FACTT (Lisbon) and The Bienal Internacional de Dança Do Ceará (Brazil).
Vanessa has been artist-in-residence at Cutivamos Cultura/BioFriction (Portugal), The Dance Centre, Dance Victoria, Harbourfront Centre, The Shadbolt Centre and The Banff Centre for Arts and Creativity where she was also on faculty. Recently, Vanessa presented work and was a facilitator for Trinity Laban's 2020 Co-Lab Project (London). Commissions include Springboard Dansé Montréal, the plastic orchid factory (with Ame Henderson), Votive Dance, Lamon Dance, Modus Operandi and The SFU rep class.
This season's collaborations include new works with artists Scott Morgan (Loscil); Caroline Shaw (USA); and Simona Deaconescu (Romania). www.actionatadistance.ca
Instagram: @actiondistance / @alexisstarfletcher / @miladramatic
Twitter: @actondistnace
To note:  Please arrive no earlier than 30 minutes before the performance. At this time, we ask that masks be worn inside the Firehall. Patrons may take their masks off while in theirs seats, or outside in the courtyard at their discretion. Door sales will be available if the performance is not sold out.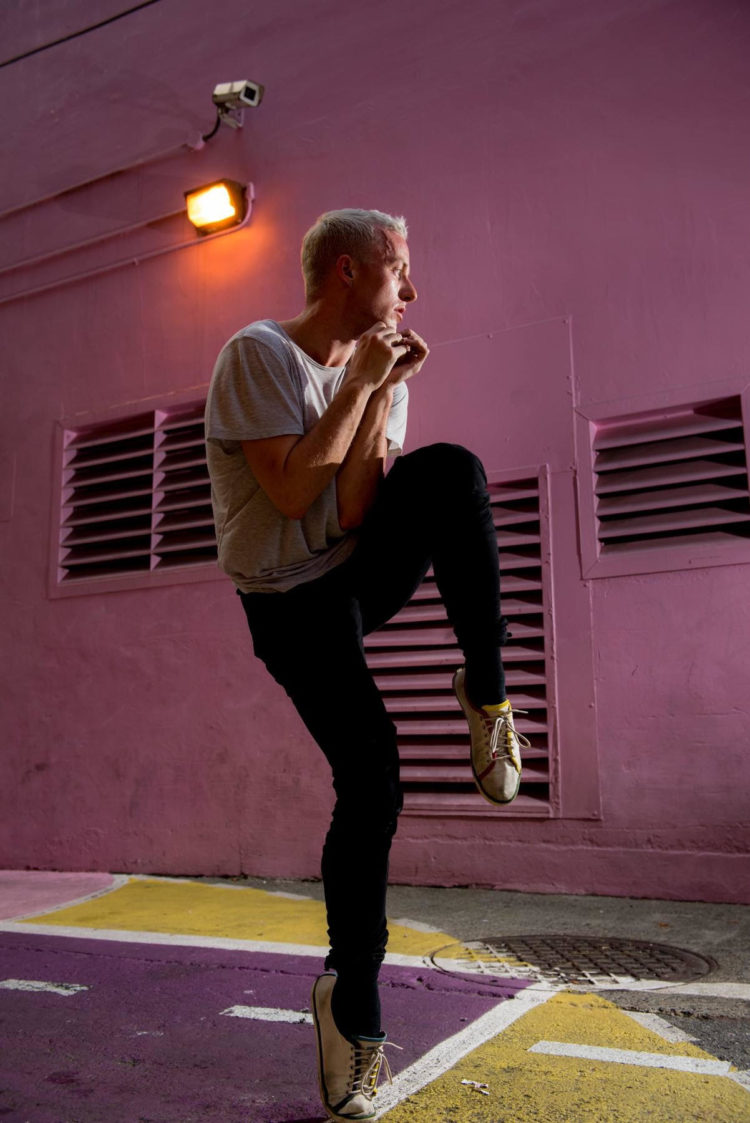 The Threshing Floor
Rob Kitsos
Screened Dance Film
World Premiere
The Threshing Floor is a performance work that animates the vibrations of sound through a fusion of movement, light and projected reflections.  Set to a score by Mauricio Pauly (The Threshing Floor), multiple microphones are used on different surfaces and instruments and manipulated performatively by the musicians. Through choreographic sequences and scores, projected images and light, the work attempts to envelop us in a multimodal experience within the textures and surfaces of the bodies and space.
A COVID Commission work.
Choreographer | Creator: Rob Kitsos and Performers
Composer: Mauricio Pauly
Performers: Ryan Jackson and Anya Saugstad
Film Artist: Beau Han Bridge
Rob Kitsos
Dance artist Rob Kitsos lives and works on the unceded territory of the Sḵwx̱wú7mesh (Squamish), Stó:lō and Səlí̓lwətaʔ/ Selilwitulh (Tsleil-Waututh), and xwməθkwəyə̓ m (Musqueam) First Nations.  He has performed across the United States, Lisbon, Barcelona, Paris, Italy, Switzerland, Germany, Netherlands, Venezuela and Hong Kong.  As a choreographer, Rob has created over 100 original works, many of which include collaborations with artists from a range of disciplines.  He has studied movement theatre in New York and Ecole Jacques Lacoq, performed as a drummer in a rock band in New York City and worked with many dance companies and artists internationally.  In addition to making new work, Rob has been teaching dance in universities for twenty-five years including Virginia Commonwealth University, the University of Washington, the Hong Kong Academy for Performing Arts and Simon Fraser University.  He teaches contemporary dance, composition, repertory, dance aesthetics, improvisation in performance and interdisciplinary collaboration.
Beau Han Bridge
Beau Han Bridge is a Chinese Canadian director and producer of film and theatre. In 2017, he created Midtwenties Theatre Society, a non-profit theatre company based in Vancouver, BC, to produce original plays that focus on contemporary-millennial stories and coming-of-age themes. Since then, Beau has produced several plays, micro-budget short films, dance films, and has been attending SFU's School for the Contemporary Arts as a film student since 2019. As of 2021, he was most recently awarded a Social Science and Humanities Research Council (SSHRC) Canada graduate scholarship and an Ontario graduate scholarship to develop an original Chinese Canadian thesis film, to which he will serve as writer and director for, when he begins his MFA at York University in Toronto, ON, for Fall 2021.
Mauricio Pauly
Mauricio Pauly makes music for mixed ensembles, working with expressive amplification and electronics as an integrated performance element. He also makes music for theatre; most notably Athina Rachel Tsangari's production of Lulu at the 2017 Salzburg Festival. He is currently developing a new theatrical project in collaboration with Vancouver-based Theatre Replacement that will premiere at PUSH 2022. Mauricio was a fellow at Harvard University's Radcliffe Institute and Civitella Ranieri, in Umbria, Italy, as well as composer in residence at Villa Romana in Florence, Italy.  His most recent release, Charred Edifice Shining is the fruit of a 10-year collaboration with UK-based ensemble, Distractfold. Mauricio is an assistant professor at SFU's School for the Contemporary Arts in Vancouver.
Anya Saugstad
Anya Saugstad is a dancer and choreographer living and working on the ancestral and unceded territory of the Sḵwx̱wú7mesh (Squamish), Stó:lō and Səlí̓lwətaʔ/ Selilwitulh (Tsleil-Waututh), and xwməθkwəyə̓ m (Musqueam) First Nations, colonially known as Vancouver BC. Anya trained at ArtsUmbrella in the pre professional training program, and also holds a BFA with honours in Dance from Simon Fraser University. Anya has danced with Inverso Productions under the direction of Lesley Telford. She has interned with Action At a Distance under Vanessa Goodman, and with Amber Funk Barton and her company the response. Anya also creates her own live and digital performance works that foster space for women to tell their stories through movement. She has been able to grow her choreographic work through mentorships with the Performance Research Program, The San Fransisco Conservatory of Dance, and Made in BC. Anya has choreographed works for Simon Fraser University, Vines Art Festival, SplitScreen (Boombox), F-O-R-M, and Mt Pleasant Collective, among others.
Ryan Jackson
Ryan Jackson is a multidisciplinary artist based on unceded, ancestral, and occupied xʷməθkʷəy̓əm, Skwxwú7mesh, and səl̓ilwətaɁɬ lands. The primary modalities he explores in his practice are dance and theatre, interested in the emergent possibilities of blurring and converging forms. Recent and recurring lines of inquiry in his work include the body as/part of ecosystem, the stickiness of memory, and improvisation as decomposition. Ryan is intrigued by the ways in which movement work can also be movement work: how dance/embodiment help us to feel liberated within our own bodies and extend to the visioning and building of liberated worlds.  He's had the pleasure of performing works by Niuboi and Mary Grace McNally and learning from artists such as Jermaine Spivey, Spencer Theberge, Erica Sobol, Tilman O'Donnell, Adi Salant, David Harvey, and Medhi Walerski. His work has been showcased through Nextfest, F**k It, and DANSOX. Ryan is incredibly grateful to be part of Dancing on the Edge for the first time and hopes to continue to grow in community here.
To note:  Please arrive no earlier than 30 minutes before the performance. At this time, we ask that masks be worn inside the Firehall. Patrons may take their masks off while in theirs seats, or outside in the courtyard at their discretion. Door sales will be available if the performance is not sold out.