Programs
what belongs to you
what belongs to you | The Contingency Plan | Vanessa Goodman
Scotiabank Dance Centre
PERFORMANCE DATES
| | | | |
| --- | --- | --- | --- |
| Sat, July 5, 2014 | 8:00pm | Scotiabank Dance Centre | Buy Tickets |
| Sun, July 6, 2014 | 8:00pm | Scotiabank Dance Centre | Buy Tickets |
Premiere – A physical journey motivated by human desire and led by the senses. The piece seeks to connect experience to memory, allowing our senses to guide us towards our greatest potential. Vanessa Goodman's choreography is anchored by A.H. Maslow's pyramidal system of human motivation and explores the idea that a person never 'is', they are always 'becoming'. what belongs to you is driven by the need to connect, survive, remember and understand the human experience. Performers Josh Martin, Lisa Gelley, Bevin Poole, Jane Osborne and Erika Mitsuhashi execute the dynamic movement vocabulary as hundreds of white balloons cascade through the space. The balloons become instruments of motivation, acting as catalysts for the performer's experience and transformation. Their innate spontaneity creates an ever-changing environment that informs the performer's journey through this richly complex work, fostering a genuine, lived experience. what belongs to you is at once personal and universal; it is surprising, immersive and honest.
Presented by Dancing on the Edge in association with The Dance Centre (the Iris Garland Emerging Choreographer Award) and The Contingency Plan.
Original Sound: Gabriel Saloman | Lighting Design: James Proudfoot | Lighting/Technical | Director: Jeff Harrison | Rehearsal Direction: James Gnam
Photo: Ben Didier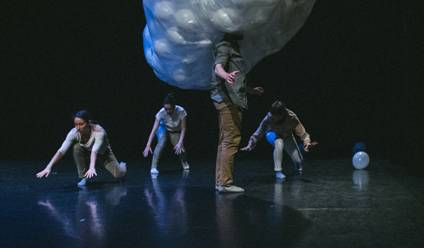 what belongs to you from Vanessa Goodman on Vimeo.