Streaming via Youtube
Approx. Running Time: 47 mins
BIOGRAPHIES
Ho.Me  |  Carolina Bergonzoni | All Bodies Dance
Vancouver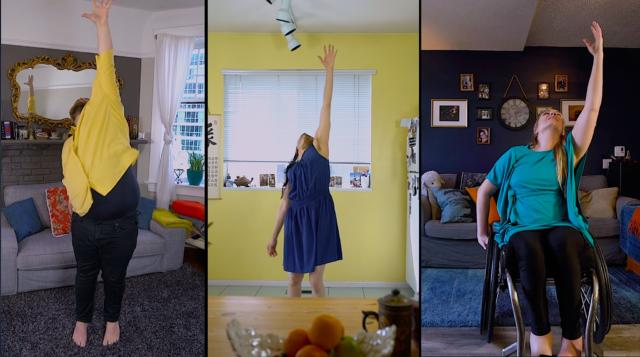 Ho.Me explores themes of belonging, comfort and discomfort in relation to the notion of inhabiting the body. The piece is comprised of three portraits of individuals who exist in different bodies but are linked by a certain narrative. The three performers move through solo material in the private, intimate, space of their homes, and eventually become an ensemble in the formal setting of an art gallery, building a connection that speaks to togetherness. Ho.Me revels in the beauty of difference and the universality of the body; it highlights the relationship between the body and the self and the creative possibilities of the body.
Ho.Me was originally commissioned by F-O-R-M 2019.
All Bodies Dance Project (ABDP)
ABDP is an inclusive dance company located on unceded Coast Salish Territory (Vancouver, BC). Founded in 2014, ABDP brings together artists with and without disabilities to explore movement as a means of creative expression. The group offers accessible dance classes for adults of all abilities in addition to creating opportunities for diverse artists to practice, research and create innovative, inclusive dance. Through mentorship and training, the company is helping to develop a new and under-represented group of dance-makers, teachers and artistic leaders with a unique set of values and approach to performance making.
Carolina Bergonzoni – Choreographer and Director
Carolina Bergonzoni is privileged to be a dance artist and PhD candidate in Arts Education, based on the unceded Coast Salish territories of the Musqueam, Squamish and Tsleil-Waututh First Nations. Since 2011, she has been working towards building communities of movers and thinkers, with people from 0 to 99+ years old. As a choreographer, she has created works for the Vancouver Fringe Festival, Dance in Vancouver, The Dance Centre, and more.
 IG: cary_berg
Peggy Leung – Dancer
Peggy Leung is a Vancouver-based dance artist invested in community-engaged practice. She is a frequent collaborator with All Bodies Dance Project, Foolish Operations and Roundhouse Community Dancers. Peggy has danced in works by choreographers Naomi Brand, Julie Lebel, Carolina Bergonzoni, and Miriam Colvin. Peggy was of member of the Yarn-Around Artist-in-Communities residency team at The Roundhouse in 2017 and in 2015, was a participating artist in the Terroir Urban Cloth Project lead by Mirae Rosner and Sharon Kallis which renewed her interest in fiber arts and other art disciplines.  She performed at Vancouver's Dancing on the Edge Festival in 2018. Peggy is currently a scholarship student at EDAM studio.
Harmanie Rose (Taylor) – Dancer
Harmanie Rose (Taylor) is a proud disabled dance artist living in Vancouver, BC. She has been actively involved in the integrated dance movement as a dancer, performer, teacher, mentor and organizer since 2006. She has had the pleasure of studying with dance companies such as Axis Dance (US), Candoco Dance Company (UK), Amici Dance Theatre (UK), MoMo Mixed Ability Dance Theatre (AB, CAN), and DanceAbility International (USA). Harmanie has worked with CRIPSiE (AB), RealWheels Theatre (BC) and is a co-facilitator with All Bodies Dance Project. Her latest work premiered at the Vines Art Festival in 2017. She holds a BA in Dramatic Arts from the University of Lethbridge and an Arts and Cultural Management certificate from MacEwan University.
IG: harmanierose
Mathew Chyzyk – Dancer
My mother had a passion for dance and enrolled me into ballet, tap and jazz dance classes at the age of six. It took me over fifteen years to reconnect with movement/dance but during my undergraduate degree, I took a course in mixed abilities theatre. This led to my connection with integrative dance. I furthered my training through my participation in a Dance Ability workshop in Calgary in 2010 and 2016 in San Francisco at the Axis Dance Summer Intensive. I moved to Vancouver in August, 2015 and connected with All Bodies Dance Project through their weekly community classes. Dancing with All Bodies over the last three years has given me the opportunity to perform numerous times. In summer 2018, I had the opportunity to perform during the Dancing on the Edge Festival in an All Bodies Dance piece, Ho.Me choreographed by Carolina Bergonzoni.
Gemma Crowe – Videographer and Editor
Filmmaker and choreographer, Gemma Crowe, graduated with distinction from the University of Calgary's Program of Dance and has created work for dance festivals in western Canada while producing three dance films that have been screened internationally. Crowe choreographed evening-length SEASONS: A Magical Musical, which debuted at the Centre in Vancouver for Performing Arts. Training overseas at P.A.R.T.S. Summer School and ImpulsTanz, Crowe has acquired a greater understanding for the context of her work. Gemma Crowe approaches dance as art, as she continues to explore, create and work in the industries of dance and film.
IG and FB: gprojectworks
Alex Mah – Composer
Alex Mah is a composer, musician, and dance artist whose scores use verbal notation to deal with ideas of indeterminacy, performer choices, and the sensing body. He has participated in festivals, workshops, and performed across Canada, Germany, Denmark, and the U.K.. In 2018, he completed a Master of Research Composition under James Saunders at Bath Spa University (U.K.)
www.cargocollective.com/alexmah
SACRƎ  |  Thierry Verger/Marek Klajda | Modal Performance
Warsaw/Paris
Canadian Premiere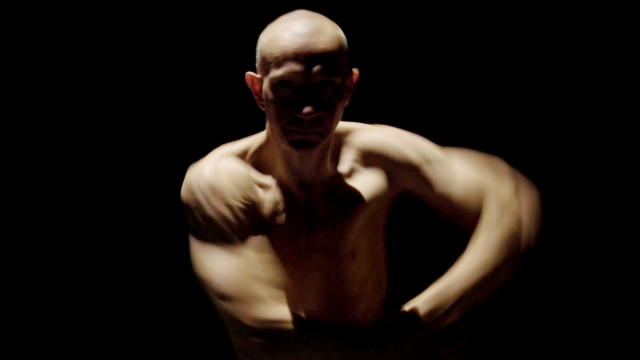 SACRƎ takes you through a very personal attempt to finding a unity that transcends the body of the dancer.
A story of the beginning of a life and it's end. About the in-between … all the emotions, choices and this inseparable body: (im) perfect, unique, (un) loved, eternal.  (Un) limited, material, (un) grateful. (Un) holy.
Marek Klajda – Producer and Performer
Marek Klajda, originally an entrepreneur and a diplomat, with a long time fascination for the experience of the body, mind and the connection between the two. He is a master of martial arts and qigong, with over 30 years of continuous practice. Dance became a natural extension of these original explorations. Marek currently works with the company of Thierry Verger, a French choreographer and founder of the Modal Underground technique, an eclectic style of contemporary dance.
Solvent  |  Vanessa Goodman | Action at a Distance
Vancouver
Canadian Premiere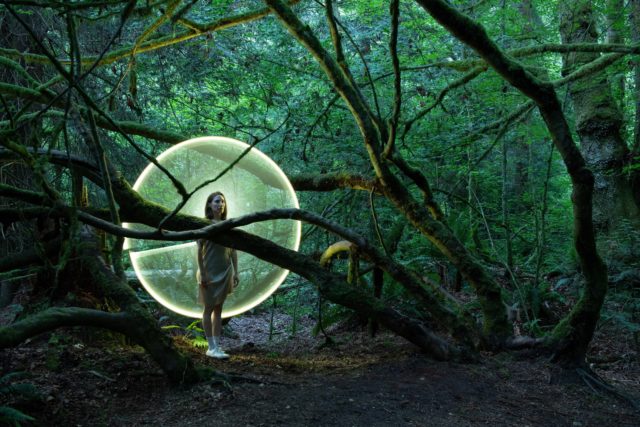 Solvent is a new work from creators Action at a Distance/Vanessa Goodman and Loscil/Scott Morgan exploring ideas of dissolving both physically and sonically.
Goodman and Morgan have been collaborating since 2015 together making work for the stage and online.
Vanessa Goodman – Choreographer, Producer, Director, Performer, Cinematographer, Production Designer, Lighting and Set Designer
Vanessa Goodman respectfully acknowledges that she lives and works on the ancestral and unceded territories of the Coast Salish peoples including the Sḵwx̱wú7mesh (Squamish), Stó:lō and Səl̓ílwətaʔ/Selilwitulh (Tsleil-Waututh) and xʷməθkʷəy̓əm (Musqueam) Nations. She holds a BFA from Simon Fraser University and is the artistic director of Action at a Distance Dance Society. Vanessa is attracted to art that has a weight and meaning beyond the purely aesthetic and uses her choreography as an opportunity to explore the human condition. She has received several awards and honours, including: The Iris Garland Emerging Choreographer Award (2013); The Yulanda M. Faris Scholarship (2017/18); The Chrystal Dance Prize (2019); The Schultz Endowment from Banff Centre for Arts and Creativity (2019); and the "Space to Fail" program (2019/20) with partners in New Zealand, Australia and Vancouver.
Vanessa's work has been presented in Vancouver by DanceHouse, SFU Woodwards, The Belkin Gallery, The Firehall Arts Centre, The Dance Centre, The Chutzpah! Festival and The Shadbolt Centre for the Arts. Presentations further afield include the Fluid Festival (Calgary), Kinetic Studio (Halifax), The Dance Made in Canada Festival (Toronto), On the Boards (Seattle), Risk/Reward Festival (Portland), Offset Dance Fest (New York), Living Things Festival (Kelowna), Crimson Coast (Naniamo) and The Bienal Internacional de Dança Do Ceará (Brazil).
Vanessa has been artist-in-residence at The Dance Centre, Dance Victoria, Harbourfront Centre, The Shadbolt Centre and The Banff Centre for Arts and Creativity, where she was also on faculty. Most recently she was in invited to create, perform and facilitate at Trinity Laban (London, UK). Commissions include Springboard Dansé Montréal, the plastic orchid factory (with Ame Henderson), Votive Dance, Lamon Dance, Modus Operandi and The SFU rep class.
Upcoming projects include collaborations with Scott Morgan (Loscil); Caroline Shaw; and Simona Deaconescu.
LOSCIL – Composer and Sound Mixer
LOSCIL is the electronic music project of Vancouver-based composer and multimedia artist Scott Morgan.  For over 20 years, Morgan has released dozens of recordings under the LOSCIL moniker including his latest – Equivalents – for the US label kranky.  Morgan is a graduate of Simon Fraser University's School for the Contemporary Arts where he studied with computer music pioneer Barry Truax.  As LOSCIL, he has also produced numerous special projects, remixes and collaborations with other musicians including Ryuichi Sakamoto, Murcof/Vanessa Wagner, Sarah Neufeld, bvdub, Rachel Grimes, Christina Vantzou, Seabuckthorn, Lusine and Kelly Wyse.
Morgan has composed for film and TV and licensed music to bold documentaries, including The Corporation, Scared Sacred, Damnation, Enlighten Us and The Marshall Projects's award winning series We Are Witnesses.  LOSCIL has contributed bespoke music and video for contemporary dance working with choreographers Damien Jalet from Belgium and Vanessa Goodman from Vancouver.  He has been involved in creating music for interactive multimedia projects such as Hundreds, Osmos, Lifelike and his own generative music application ADRIFT.
As a touring entity, Morgan has brought his live audio-visual performances to festivals worldwide including Mutek, Le Guess Who, LEV, Gamma Fest, Today's Art, Open Frame and Big Ears.