1pm – Ted Littlemore
2pm – Olivia C. Davies
3pm – Tia Kushniruk
4pm – Erika Mitsuhashi
1pm – Olivia Shaffer
2pm – Daria Mikhaylyuk
3pm – Ileanna Cheladyn
4pm – Marisa Gold
Instagram Live via @response.dance
Running Time: Multiple showings ranging from 5-20 mins
BIOGRAPHIES
Dance Café was launched by the response in 2017 with the goal of fostering, supporting and sharing unfinished contemporary dance works by professional dance artists in the Vancouver community.  This presentation has always been informal and intimate without the pressure of production values (except for the playing of music/sound) and it has always been offered to the community for free.
The duration of the work can be anywhere from 1 to 20 minutes.  Dance works shared by Choreographers are 'unfinished' and/or ideas they are in the process of developing or simply interested in.  The company strives to have Choreographers share their work without judgement or expectation.  In a gesture of absolute trust, the company does not view any of the work prior to the event nor require the Choreographers to submit any information to what they will share.  Dance Café is always a surprise and the ultimate form of show and tell!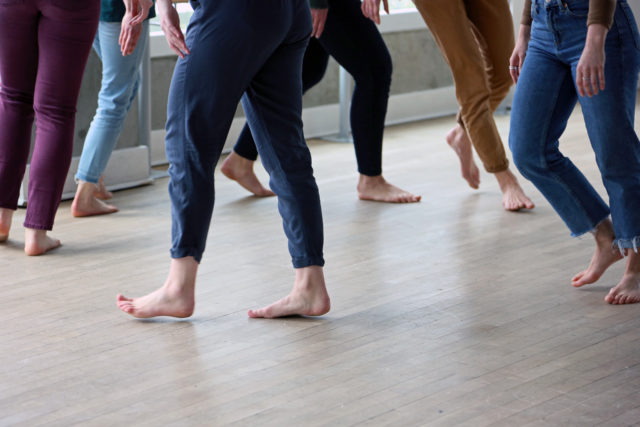 Amber Funk Barton – Artistic Director and Curator
Amber Funk Barton is a contemporary dance artist who was born, raised and lives on the unceded territories of the Musqueum, Squamish and Tsleil-Waututh Nations.  She has been a professional dance artist for 19 years and in 2008, she founded her own contemporary dance company, the response. 
Kaia Shukin – Co-Curator
Kaia Shukin is a dance artist gratefully living and working on the ancestral and unceded territories of the xʷməθkʷəy̓əm (Musqueam) Sḵwx̱wú7mesh (Squamish) and Səl̓ílwətaʔ (Tsleil-Waututh) Nations.  She received her BFA in Dance from Simon Fraser University in 2018, during and since her time there she has had the privilege of working with Peter Bingham, Shauna Elton, Company 605, Amber Funk Barton/the response. Justine A. Chambers, Henry Daniel, Daisy Thompson, Jennifer Mascall and Eowynn Enquist.  Kaia has the privilege of working for the response. since 2016 assisting the response. with their outreach programming of #dancehappy and Dance Café.
the response.
Founded in 2008, the response. is a project based contemporary dance company dedicated to the creation and presentation of contemporary dance.  It is a home for its founder and Artistic Director, Amber Funk Barton, to create and share dance that is entertaining and artistic as well as her desire to share her stories and observations with the world.
Ted Littlemore
Ted Littlemore is a dance artist, musician, and drag performer. He trained in contemporary dance with Modus Operandi, under the direction of Tiffany Tregarthen, David Raymond, and Kate Franklin. Since graduating, Ted has collaborated and performed with Action at a Distance, FakeKnot, Kate Franklin, Kinesis Dance Somatheatro, Ne.Sans Dance Company, Joshua Beamish and the Vancouver Opera, Social Ritual Collective, Tara Cheyenne Performance, and Compagnie Vision Impure.  He is also developing his own work, fusing contemporary dance with his work in drag. Ted started drag in 2013 to explore the intersection of his musical, theatrical, and dance backgrounds. Performing as Mila Dramatic, he (/she!) took the title of Vancouver's Next Drag Superstar in 2016, and now performs frequently at local drag venues. Ted also studies and works as a classical and jazz pianist.
IG: MilaDramatic
Olivia C. Davies
Olivia C. Davies is a dance artist, choreographer, community-arts facilitator and emerging curator of Anishinaabe, French-Canadian, Finnish and Welsh heritage. Davies' works often explore the emotional and political relationships between people and places. Her first full-length work "Crow's Nest and Other Places She's Gone" (2017) blends Contemporary dance, theatre, and street culture through an Indigenous lens.  Her recent choreographic explorations are driven by a desire to explore neo-traditional aspects of her Indigeneity. Originally from Algonquin Territory, Ottawa, Ontario, Canada, Davies' work is currently based in Vancouver, BC, Canada on the ancestral and unceded Coast Salish territories of the ʷməθkʷəy̓əm (Musqueam), sḵwx̱wú7mesh (Squamish), and sel̓íl̓witulh (Tsleil-Waututh) First Nations. She is the Artistic Director of O.Dela Arts.
Tia Kushniruk – Actor, Director and Scriptwriter
Tia Kushniruk is from Edmonton AB. She graduated from The School of Toronto Dance Theatre (STDT) in 2017 and is the recipient of the 2016 Kathryn Ash Scholarship. She has had the pleasure of performing works of Antony Hamilton (Chunky Move), Paul Andre-Fortier (Fortier Danse-Creation), Peggy Baker (Peggy Baker Dance Projects), Christopher House (Toronto Dance Theatre), Shay Kuebler (SK/RSA), Christianne Ullmark, and Jasmyn Fyffe. Since 2013 she has toured Nationally in Canada and Internationally to Israel, The U.S.A, Colombia, China, and France. Tia's work has been presented by STDT's Student Council (Toronto, 2014-2017), Edmonton Dance Theatre's Dancing in the Park (Edmonton, 2016), and Festival Internacional Nomada (El Salvador, 2020). Her work and study has been supported by the Alberta Foundation for the Arts and the Canada Council for the Arts, since 2015.
IG: ya_di_tai
Erika Mitsuhashi
Erika Mitsuhashi is a dance artist based based in Vancouver, the unceded territories of the Squamish (Sḵwx̱wú7mesh Úxwumixw), Tsleil-Waututh (səl̓ilw̓ətaʔɬ) and Musqueam (xʷməθkʷəy̓əm) Nations. She holds a BFA in dance from SFU School for the Contemporary Arts. She has had the pleasure of interpreting the work of dance artists including Justine A. Chambers, Ziyian Kwan (Dumb Instrument Dance), Sasha Kleinplatz (Wants&Needs), Rob Kitsos, Vanessa Goodman (Action at a Distance) and Judith Garay (Dancers Dancing). As a maker, her practice spans disciplines using the body as a site for conceptual thematics including in-betweenness, intimacy, materiality of the body/spaces, pseudo-science and DIY performance tactics. Erika's work and collaborative projects have been presented locally and internationally by PAUL Studios Berlin, Toronto Love-In's PS: We are All Here series, Surrey Art Gallery's InFlux, Kinetic Studio's Open Studio Series, New Works's 2018/19 Season Launch and La Serre's OFFTA festival of live art. She has ongoing collaborations with fellow dance artists Alexa Mardon (Mardon + Mitsuhashi), Francesca Frewer and is co-artistic director of Farouche collective.
Olivia Shaffer
Olivia Shaffer is a choreographer, performing artist, and movement teacher. She was born and raised on the unceded Coast Salish territories, also known as Vancouver, BC. For over a decade, Olivia has worked as a freelance dancer and improviser, interpreting the work of more than 20 choreographers. She has performed with EDAM Dance since 2014, and is the Assistant to the Artistic Director. As a choreographer, Olivia creates living and embodied dance, rooted in structured improvisations. Her choreographic work has been presented by New Works, Small Stage, Shooting Gallery, and she is a resident choreographer for the 2019/2020 season of Made in BC's Des Arts Dehors/Arts Outside program. Her performance practice is shaped by her ongoing study of Contact Improvisation, Feldenkrais, Grotowski physical theatre, among others. Olivia regularly teaches workshops for professional, pre-professional, and community dancers. She has taught abroad in Europe, the United States, and Asia. She holds a BFA in dance and a Liberal Arts Certificate from Simon Fraser University.
IG: ojshffr
Daria Mikhaylyuk
Daria Mikhaylyuk is a Russian-born, Canadian-based dance artist, currently living and moving in Vancouver, BC. After relocating to Canada in 2014, she continued her dance education with Modus Operandi Contemporary Dance Program, and simultaneously completed her BA in Art History at the University of British Columbia.
Daria got to deepen her practice through working and collaborating with companies like Dance Victoria, Vision Impure Compagnie, Mascall Dance, Kinesis Dance Somatheatro, FakeKnot, Wen Wei Dance, artists like Anya Saugstad, Eowynn Enquist, Diego Romero, as well as through her solo projects, in which she's been interested in exploring intersecting movement and video/digital art. Her works were presented at the Shooting Gallery Performance Series, FORM (Festival of Record Movement), Body+Camera festival in Chicago and Jersey City, Remington art Gallery.
Ileanna Cheladyn – Creator and Performer
Ileanna is an emerging dance artist and anthropologist based in Vancouver, BC. With deep appreciation, solidarity, and allyship, she acknowledges the many Coast Salish communities and lands that host her practice under profound, historical duress. These lands are the traditional, ancestral, and unceded territories of the Squamish, Tsleil-Waututh, and Musqueam Nations.
Her work is critical of prescriptive mind/body dualisms, and seeks to find ways of making dance that avoid the canonical privileging of theory and product over process and practice. She draws on the movement of making which includes task-based and score-based choreography, improvisation, writing, sewing and design, and production. Ileanna attended Ecole de Danse Contemporaine de Montreal, and Modus Operandi for dance training. She has worked with and for Vancouver artists whom she is thankful to call both peers and mentors. Currently pursuing her MA in Anthropology at SFU, Ileanna tends toward neuroticism as a way to cope with and sit in presence with the complexity of the world and its swirling power relations. Sassy and awkward from a young age, Ileanna is easily impressed and cares a lot about the knowledge we as dance makers and artists produce.
IG: leasophia
Marisa Gold
Marisa Gold is an empathetic dance artist and poet with a passion for all things soulful. With a BFA in dance (SFU), certificate of completion from The Ailey school Independent Study program (NYC), and The Graham school 2017/18 Intensive (NYC), Marisa has trained in a wide variety of Modern/Contemporary styles. Her professional dance performance experience ranges from modern/contemporary concert dance to experimental street style performance, and musical theatre productions to film and TV work. In addition, she has had the opportunity to work as a choreographer (Theatre la Seizieme), assistant choreographer (Riverdale CW), writer and voice-over artist (Alive – Wai Cheng, Face Value – Mitch Bax, Origins – Immigrant Lessons/ Form Vancouver), actor, spoken word poet, fashion designer (Sleepless Mindz) and collaborator in direction. Marisa's artistic influences are deeply rooted in the heart space of her ancestors. She feels powerful and expansive when she remembers all who have come before her in artistic and self-expression. Marisa feels honored to live as a multidisciplinary artist and looks forward to diving deeper with love into the beautiful mystery of existence.
IG: feeltheall