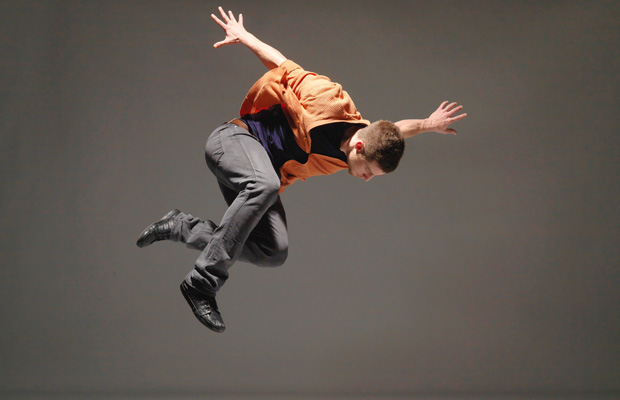 Dancing on the Edge Festival
July 4-13 | Firehall Arts Centre, Soctiabank Dance Centre, Portside Park, Gastown and Chinatown
Tickets: $22-28 at dancingontheedge.org/
It bills itself as "the little festival that could," and on the basis of sheer tenacity alone, Vancouver's Dancing on the Edge Festival deserves some sort of prize.
An outgrowth of the Firehall Arts Centre, it marks its 25th anniversary this year. It continues to present contemporary dance in the urban crucible of the Downtown Eastside, serving both a neighbourhood and a dance sector undergoing swift transformation.
The festival's quarter century mark finds the festival both consolidating some of its strengths, and also questioning its future. Founded by Donna Spencer — who remains the festival's artistic director — and Esther Rausenberg in 1988, Dancing on the Edge was originally designed to give Vancouver dance artists much needed stage time.
Back in 1988 there was no Scotiabank Dance Centre or PuSH Festival.
The Vancouver International Dance Festival didn't exist, and neither did the Chutzpah! Festival, Dance Allsorts, Dances for a Small Stage or DanceHouse.
Opportunities for local choreographers to showcase their work were few and far between, and the democratization of dance we now take for granted was years away, where artistically hungry artists don't wait for anyone to give them a break: they make and take their own chances.
In the early days of Dancing on the Edge, the festival was a first-come, first-served free for all.
The quality of dance presented was wildly uneven, but the festival had a raw and crazy energy. Looking back at an early program from 1992, the names on the roster are striking: Lee Su-Feh, Joe Laughlin, Alvin Tolentino, local dance makers whose importance continues all these years later.
As a sidebar, that was also the year that Edmonton's Brian Webb showed excerpts from his Dreams of Odysseus, a manic turn involving a man in underpants, a side of raw beef and a meat cleaver. It remains the only dance performance I have ever seen in Vancouver which triggered both vocal walkouts during and loud booing after, which it seems to me is the kind of response a festival that prides itself on balancing on the edge should be provoking.
The 2013 festival lineup is both similar to, and different from earlier editions.
Gone are the headliner events by out-of-town companies at the Vancouver Playhouse, although there are two off-site shows at the Scotiabank Dance Centre: The Most Together We've Ever Been by Toronto's Public Recordings, and BAMBOOZLED by MACHiNENOiSY.
But the focus this year is on what the festival has always done best: Small-scale mixed programs at the Firehall, and site-specific work in the neighbourhood.
Artistic director Donna Spencer has seen radical changes in the streets around the Firehall Arts Centre since the festival's beginnings.
"The neighbourhood has had peaks and valleys," she says when we meet to chat at the Charles Bar. "Right now we are seeing tremendous private sector investment in the Downtown Eastside, with a surge in mixed use and social purpose condo development. There is a whole new energy, partly triggered by the re-development of Woodward's and the presence of SFU and a huge number of students."
Responding to and reflecting this energy, Dancing on the Edge 2013 is heavy on outdoor works in the immediate vicinity. One of its most popular attractions, Dusk Dances, which used to be programmed in Queen Elizabeth Park on the west side, has been re-located to Portside Park (commonly known as Crab Park, at the north end of Main Street just beyond the Alibi Room.)
"It is such a lovely park," Spencer says, "across the railway tracks and right on the water. The location is perfect, because it is close to the core of the festival and pulls audiences from the neighbourhood."
Returning as host of Dusk Dances is the side-splitting Tara Cheyenne Friedenberg, for whom the festival has been a valuable venue for showcasing dances in progress, including early sections of her recent full-length work, Highgate. Another outdoor evening event is EN3: Community Circles, in which Vancouver-based Colleen Lanki of TomoeArts will show a series of Japanese inspired dance-theatre pieces at Chinatown's Night Market.
Not at night, but very much attuned to place, is 25 Gestures for Dancing on the Edge, a bouquet to Dancing on the Edge from Vancouver's Co. ERASGA Dance. Performed every day of the festival at noon at the Gastown Steam Clock, the piece honours the 25th anniversary in the form of a ritualistic movement prayer performed by choreographer Alvin Erasga Tolentino and Alison Denham.
Another mid-day attraction is wobble tops, in which Sandra Botnen sets in motion two dancers on 15-feet flexible poles in the Atrium at SFU Woodward's. All site-specific performances are free to the public.
Dancing on the Edge's mixed programs are grab bags, in which there is always the possibility of a gem or two. They could come from veterans like Karen Jamieson, who will set a solo work on Edmond Kilpatrick, or Jennifer Mascall, who will offer an edition of The Nijinksy Gibber Jazz Club, a unique stew of improvisation and choreography that got its start at the festival way back when.
There's a new solo work, Leftovers, by Josh Martin; a reprisal of When That I Was choreographed by the late, great Nigel Charnock and performed by Noam Gagnon; and extending a long festival tradition, an excerpt from a new work in progress by Wen Wei Wang, Made in China. This showing launches a two year residency by Wen Wei Dance at the Firehall Arts Centre.
As for the future of the festival, there is a bittersweet quality to Spencer's reflections.
"When you're one of the founding people, does it close down when I stop doing it? I want to do a post-festival think-tank with artists this year and ask the question: Is there still a role for the festival? How should it re-shape itself? What I don't want is for it to go out with a whimper."
© Copyright (c) The Vancouver Sun
Read more: http://www.vancouversun.com/entertainment/Dancing+Edge/8611809/story.html#ixzz2Zt5Pa1jV